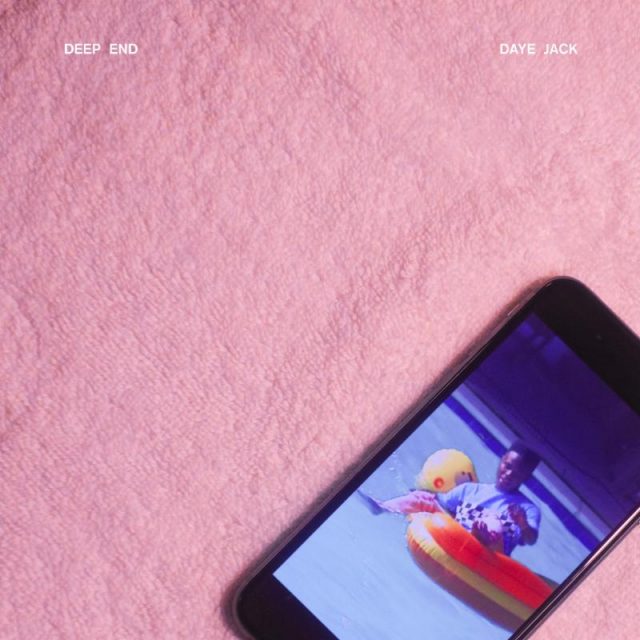 DAYE JACK RELEASES NEW SINGLE – "DEEP END" – TODAY VIA ALL DSP'S
NEW 7-SONG EP – SURF THE WEB – AVAILABLE FOR PRE-ORDER NOW ON ITUNES
DAYE JACK ON TOUR WITH WATSKY
September 8

th

, 2016 – (Burbank, CA) – Atlanta hip-hop artist Daye Jack releases a new single, "Deep End," today via all digital platforms. Zane Lowe will premiere the song this morning on his Beats 1 show at 11 am PST.
Produced by MAG, "Deep End" is featured on Daye's upcoming EP, Surf the Web, which will be released by Warner Bros. Records on September 23

rd

. The seven-song EP is now available for pre-order on iTunes. Those who pre-order will receive instant downloads of "Deep End," and the previously released tracks "Raw" and "Finish Line."
PRE-ORDER "SURF THE WEB"
Born in Nigeria, raised in the burbs of Atlanta, inspired by his old man and Steve Jobs to program computers, and downright deadly on the microphone, rapper, singer, and artist Daye Jack really made the most of his first 20 years. After relocating from Nigeria to Atlanta at the age of six, he split his time between playing soccer, slinging computer code, singing in choir, and listening to the likes of Eminem, OutKast, and 50 Cent. Achieving a Computer Science scholarship to NYU, Daye traded the Big Peach for the Big Apple. During his freshmen year, he found inspiration in both the creative enclave of his classmates and the burgeoning movement of artists such as Chance the Rapper, Joey Bada$$, and Mac Miller.
In 2014, he cooked uphis breakout mixtape Hello World during a winter break and uploaded it to the internet. Off the strength of the project, he signed his publishing to  GRAMMY

®

 Award-winning super producer Max Martin [Maroon 5, Taylor Swift, Justin Timberlake] and inked a deal with Warner Bros. Records-personally scouted by the legendary Mike Elizondo [Dr. Dre, Eminem]. Releasing 2015's Soul Glitch EP, he drummed up kudos and looks from Billboard, Pigeons & Planes, Pitchfork, XXL, andComplex who touted him among "25 New Rappers to Watch Out For."  Simultaneously, he collaborated with everyone from Killer Mike ("Hands Up") to Tori Kelly ("Expensive") and Ariana Grande ("Sometimes") and joined packed tours alongside headliners as diverse as Lukas Graham and Pell. Along the way, Daye worked on his next evolution, 2016's Surf The Web EP and his forthcoming full-length No Data in Los Angeles. By being himself, Daye is about to make a lasting impression on hip-hop and pop culture at large.
Check
 him out with Witt Lowry on Watsky's "Infinity" tour happening now. See dates below.
FRI 9/2                 Phoenix, AZ                  Club Red
SAT 9/3                Albuquerque, NM           Sushine
SUN 9/4               El Paso, TX                  Tricky Falls
TUE 9/6               Austin, TX                     Emo's
WED 9/7              Dallas, TX                     House of Blues
THU 9/8               Houston, TX                  House of Blues
FRI 9/9                New Orleans, LA            House of Blues
SAT 9/10              Pensacola, FL                Vinyl
TUE 9/13             Tampa, FL                      The Orpheum
WED 9/14            Tallahassee, FL              Club Downunder
THU 9/15              Atlanta, GA                   The Loft
FRI 9/16               Charlotte, NC                 Neighborhood Theatre
SAT 9/17              Baltimore, MD                Baltimore Sound Stage
MON 9/19             Pittsburgh, PA                Altar Bar
TUE 9/20              Philadelphia, PA             TLA
FRI 10/21             New York, NY                 Irving Plaza
SAT 10/22            New York, NY                 Irving Plaza
SUN 10/23           Boston, MA                     House of Blues
TUE 10/25            Portland, ME                   Port City Music Hall
THU 10/27           Toronto, ON                     Opera House
FRI 10/28             Cleveland, OH                 Agora Ballroom
SAT 10/29            Columbus, OH                 Newport Music Hall
TUE 11/1              Detroit, MI                       Majestic
WED 11/2            Chicago, IL                      Concord
THU 11/3             Minneapolis, MN              First Avenue
FRI 11/4                Milwaukee, WI               The Rave II
SAT 11/5              Lawrence, KS                  Granada
SUN 11/6             Lincoln, NE                      Bourbon Theatre
TUE 11/8              Denver, CO                     Cervantes
WED 11/9            Salt Lake City, UT            Complex
THU 11/10           Boise, ID                          Knitting Factory
FRI 11/11             Seattle, WA                      Showbox
SAT 11/12            Vancouver, BC                  Rio Theatre
SUN 11/13           Portland, OR                     Roseland
TUE 11/15            Eugene, OR                     WOW Hall
WED 11/16          Redway, CA                     Mateel Community Center
FRI 11/18             San Diego, CA                 Soma
FRI 11/25             San Francisco, CA            Warfield
SAT 11/126          Los Angeles, CA                Fonda
###