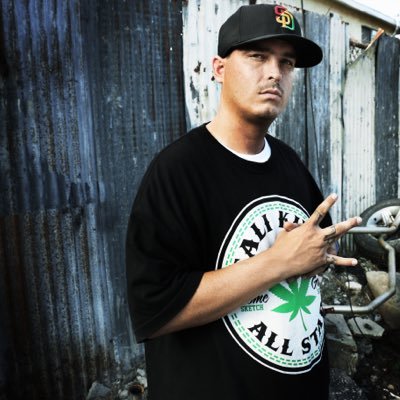 Recently, DubCNN caught up with San Diego rapper, Johnny Collarossi, about his upcoming wave of 'Cali-Tex' music arriving worldwide in 2016-17.
Collarossi who recently released his album, 'West Coast Drive Thru' in August 2016, with Big2Daboy and Baby Eazy-E, helped to start his first solo nationwide distribution deal for upcoming album "Welcome2Texafornia".
The album is a California and Texas collaborated production featuring members from the Screwed Up Click and more. Collarossi has had a long history collaborating with many West Coast artists like Spice 1, Celly Cel, Richie Rich, Coolio Da'Unda'Dogg, and Big2DaBoy; along with many international artists like the OG Clicc out in France and producer CartelSons. 
P-Rice catches up with Collarossi about his latest single, "Texafornia", and his upcoming 3rd release, "Welcome2Texafornia". Read interview and view "Texafornia" music video below.
…………………………………………………………………………………
Interview conducted in September 2016.
Questions Asked By: P-Rice
…………………………………………………………………………………
DubCNN: Your latest single "Texafornia" just dropped, could you tell us a little bit about your upcoming album "Welcome to Texafornia"?
Collarossi: My album, 'Texafornia', is a concoction of California and Texas. I met a few music heads out there and one thing led to another. Our styles are different and the grind is as well; but the music and the hustle flow is so heavy in these two States. I felt it was something that needed to be done, if anyone else did such an album I'd support it all the way. There's a lot of chasing going down between the Gulf of Mexico and the Pacific Ocean.
DubCNN: What is the meaning behind Texafornia? Where exactly would you say Texafornia lies?
Collarossi: The meaning is pretty much self explanatory because California has its own rep and fingerprints in on the rap game – same goes for Texas. Big states with big reps and very long list of musicians, especially rappers who have made it that are from Cali and Texas. Big markets from Cali to Texas, and everything in between. The entire southwest and stretching out is where, Texafornia is, but the music is worldwide.
DubCNN: The new single is featuring Coolio Da'Unda'Dogg, Lil' KeKe and Big Pokey from the Screwed Up Click, along with Propain, Big2Daboy, and Tiaramy – all killed it and did a great job laying it down – is "Welcome to Texafornia" strictly based on collaborations between California and Texas?
Collarossi: The entire album was recorded in Houston, TX, no emails. All live-n-direct, on the spot, all the way from picking beats to writing and recording. I've been to the H-Town (Houston, Texas) 3 different times now and have finished 3 videos, 1 album and we also had a phat party. We will also have a release party soon (for Texafornia). Texafornia has 16 tracks on it and will include a DVD of behind the scenes, studio and party footage. 3 different 8 HR sessions took place and the album was finished ahead of time. All gas no brakes in the studio and many people saw that in me. Everyone is connected one way or another so that was important to get a few of us under one roof for a joint!!!
So yeah, it's based on the connections behind the line up. The producer and my lawyer helped form a lot of the connections and set up a nice situation for my first session and I brought my ace n deuce out with me to close the album down. Trae the Truth, Slim Thug and even Kid from Kid 'n Play were at our party.
 Also, met Baby Bash, Chingo Bling, Gold Toes, Zone, NiccT, Gasman, BabyGas, June James, Bravo, Keezy and others during my trips. Got a crazy lineup on the theme song; I also got KingRashee, TraeDawg, Killa Kyleon and Le$ on my album. Texafornia was pursued and executed; the rest is all history and more history in the making.
DubCNN: Will we hear a Collarossi and a Z-Ro or Trae the Truth collaboration sometime soon?
 Collarossi: I'd love to collab – especially with the ones who take themselves seriously – and make moves on a consistent basis. Trae the Truth actually came through to our 'Texafornia' party and Gig'd with us for a few. Would love to get on a joint with either of them, it's all in the making we'll see what happens.
DubCNN: Where can we catch Collarossi next?
Collarossi: It's hard to predict since there's so much on the table. I'll be between San Diego and LA on the regular while making some pit stops out in Arizona and Texas. I'll be back to Europe in early 17′ for my 5th trip and 3rd Tour of France and Holland.
DubCNN: Any release date in mind for "Welcome to Texafornia" and where can any of your fans pick up a copy with some merchandise when it drops?
Collarossi: Hopefully I can sneak it in to close the year down, it has been done for a few months now. Just dealing with a few things on the calendar with distribution (before we release). We also just dropped the 'West Coast Drive Thru' via SelectOhits Records. Trying to narrow down the date but it could very well be anytime from November to March (2017) we'll see.
DubCNN: Where can we see Collarossi on social media and so forth?
Collarossi: Stay updated on my IG (Instagram) @Collarossi, my Facebook at Johnny Collarossi or my website www.OfficialCollarossi.com
Also be on the lookout for my clothing line B.U.R.N. (which means Blaze Up Right Now). I got many albums out and a bunch more coming out.
I got a duo album with Da'Unda'Dogg finished and it's dropping very soon as well as the '4P's' which is another Cali to Texas vibe. It'll ride Texafornia's wave and create a new movement. June James produced the '4P's' and it really brought another side out of me. A lot of hits coming – next video coming will be 'So Fly', it's a solo joint off "Welcome2Texafornia."
DubCNN: Thank you for your time Collarossi, we look forward to your release "Welcome2Texafornia". Keep hustlin'! 1 love – View Johnny Collarossi's latest single "Texafornia" below:
Be sure to pick up Johnny Collarossi's previous albums, "Cali Connection", "West Coast Affiliates" with Big2DaBoy featuring several upcoming West Coast talent along with "West Coast Drive Thru" and collaborations with French producer CartelSons.