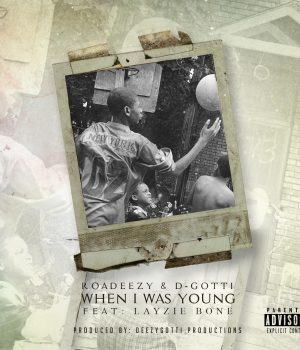 The San Diego producer Roadeezy dropped by and shed some light on his new single with D-Gotti featuring rap legend Layzie Bone of Bone Thugs N Harmony.
 The track titled "When I Was Young" is available worldwide right now. The beat was crafted by both D-Gotti
and Roadeezy. The two work together under the moniker DeezyGotti Productions.
The Duo built the track, with Layzie Bone in mind, using Logic 9 and sampled sounds out of their Slapp House studio in San Diego.
The slow methodic beat is highlighted by a simple, but effective string pattern and a classic drum line. Roadeezy took the unique approach of
reaching out to Layzie Bone and his manager, where they were unveiling the clothing line Ducquets. From there the seeds were
planted and the song came to life. "When I Was Young" is now available on most digital outlets distributed through Tune Core
#samecloth