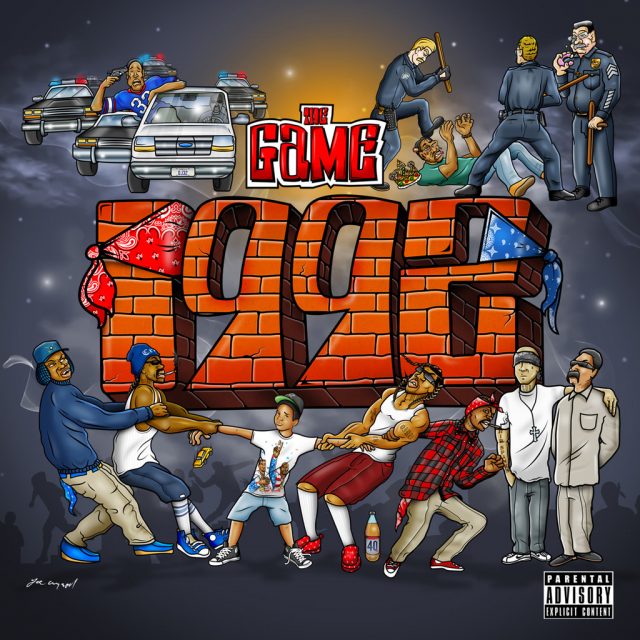 THE GAME'S 1992 ALBUM
AVAILABLE NOW
"ALL EYEZ" SINGLE
#7 RHYTHMIC NATIONAL AIRPLAY
Compton rapper The Game is thrilled to release his seventh studio album 1992 via Entertainment One Music/Fifth Amendment/Blood Money. Current single "All Eyez" featuring Jeremih has climbed to #7 on Billboard's Rhythmic National Airplay Chart. The 12 track 1992 release includes the hard hitting "True Colors/It's On" where Game pays homage to Ice-T and reveals intimate, vivid details of his youth in the 90's and "I Grew Up On Wu-Tang" where he pays ode to the legendary heavyweights. The Game concludes the project with the eviscerating diss track "92 Bars" that brings it back to present day events. Full track listing included below.
The Game explains,
"After being a part of hip hop for over a decade, I'm just appreciative of the fact that my fans have been so supportive & remain to be a driving force when I release albums. #1992 is a drift through my childhood, transitioning into my teenage years in a city that was on fire & plagued by gang activity. I can't wait for people to listen to how I survived & the stories I lived through to tell…"
DOWNLOAD THE GAME'S 1992 ALBUM
The Game recently wrapped up his successful 1992 Block Wars National Tour which kicked off August 31st in Los Angeles with stops in Dallas, Miami, Atlanta, Chicago, Portland and many other major cities. Fans can also check out Game's appearances with Wendy Williams, Steve Harvey and Amber Rose where he further delves into his projects and current hot topics.
1. Savage Lifestyle
2. True Colors/It's On
3. Bompton
4. Fuck Orange Juice
5. The Juice
6. Young Niggas
7. Soundtrack
8. I Grew Up On Wu-Tang
9. However Do You Want It
10. Baby You
11. What's Your Life Like
12. 92 Bars