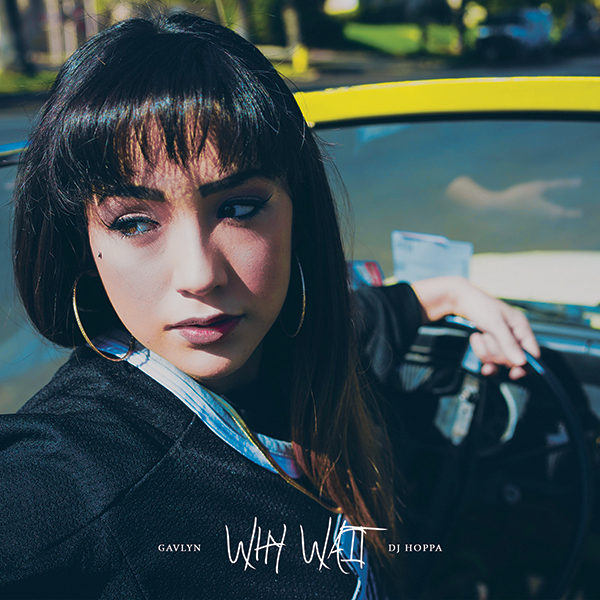 Building off of her Inner Views: Life Behind Bars episode, I had the extended opportunity to sit and discuss more with Gavlyn on her collaborative EP Why Wait with DJ Hoppa, and focus more in detail on the boom bap orientated project. Having known Hoppa since roughly around the age of 17-18 years old, their familiarity in life transitions fluidly into the studio, allowing them to get the long overdue EP done in a month's span. Pressed for time, Hoppa's straight forward and honest approach kept their studio sessions productive, never letting her leave without accomplishing something. Motivated by his work ethic, Gavlyn's focus as an emcee was to have more animated deliveries and style, unlike her more moody and previously released project, Make Up 4 Your Break Up. Capturing the same underground energy that first inspired her to rhyme, this latest EP is her strongest work yet.
Opening with an intro meant to insinuate the talent suppressing and soulless rap industry, the skit not only highlights said point and Gavlyn's improv abilities, but segways into the EP's first full record in "Play The Villain." With a self explanatory title, the subject matter is veered towards her relationship views & her unwillingness to settle with and for a sub par partner. Breaking hearts along with gender roles, and any other expectations placed against her, the daunting piano laced production helps evoke an eerie energy and emotion simultaneously. Transitioning over to one of the project's first leading singles in "No Backpacks", the Reseda born emcee is back on her bullshit, and needing no reason to justify her lack of love for the other side. Set on simply keeping it hip-hop son; she remains true to her rap roots while avoiding becoming a present contradiction of the art in its essence. Also complimented by a more active and aggressive sound, Hoppa sets up Gavlyn with a prized canvas to color with her distinct rhyme style and rhythm.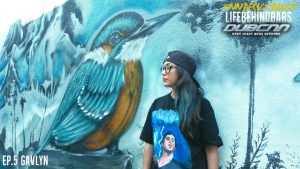 Slowing it down some for one of her personal favorite joints in
"LaLa"
(pun was unintended), an ode to the marijuana and its meditative properties, the smoking songstress sparks one for the mind one time. Energized by the herb's essence, the tranquil production puts her at peace & keeps her both honest and humorous in regards to her own smoking habits. Extending her smoke break while introducing the project's first feature in
Demrick
 on
"Stoner Love"
, the title speaks for itself once again, capturing a level of love only shared and understood between blunt burning herbalists. Sticking to the sticky-icky and steering clear of the alcohol and drugs, Hoppa's top shelf production brings together both his
Broken Complex
associates to elevate listeners & lovers alike with a special strain of sound from their private stash.
Coming down from the audible high, Gavlyn's "Will It Be To Late" turns her sights back to the more bitter realities, and away from the more sweet scenarios. Fully embodying the "why wait" attitude, the versatile valley vixen voices her vulnerabilities, second guessing and doubting her interest(s) over timeless drums that better boost her sentiments. Moving forward to another one of her prized records, "Let Me Tell You", the track's melodic mood sets the stage for Gavlyn to flow freely and confidently with regards to her take on today's rap game. Validating her opinions through independent success, she states and shows she's no punk ass when it comes to holding herself down here. With an admirable attitude, her adamant approach resonates with reason, as she is one of the few feminine forces felt in hip-hop today. In a game generally played by men, female competition is obviously scarce, thus directing listeners to her next track "One Way To Go", which capsulates her mindset in a male dominated rap community. Fueled by the nay-sayers and negativity unfortunately associated with art, or anyone pursuing their dreams for that matter, Gavlyn creates yet another comfort zone for self-expression amidst the chaos. Progressing off the positives rather than be deconstructed by d'evils, her contagious cadence and chorus set the tone for what is the EP's most jubilant joint.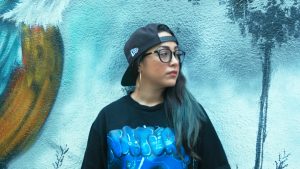 Doubling as a track title and now prevalent question with
"Where The Real Ones Go"
, Gav sheds light on the lack of skill and standard that currently plagues the entire culture. With more divas (male & female) running ramped through the game than emcees, her concerns are not only reasonable, but shared by many. Brought up to respect and value the art of rhyme, Gav pays tribute to those principles while holding the torch & lighting the way for those still seeking authenticity from their favorite artists. Bringing the project to a close with a reflective record in
"All I Know"
featuring
Dale Spolett
, you hear a culmination of experiences & the at times grueling hard work it is to be internationally renown artist such as herself. It is difficult to be successful artist, coupled with the fact that she's female, her climb to the top has truly been a steep one.
Enduring it all, she continues on her passionate pursuit, empowering women of all ages to be fierce and fearless in their own endeavors. Genuine, gracious, humble and rightfully heralded through the underground hip-hop scene, Gavlyn is as amazing a person as she is an artist. Spearheading a movement alongside fellow and formidable female emcees such as Reverie, Blimes Brixton, Snow The Product and Lucy Camp, hip-hop is in for a healthy dose of wondrous women to come. Internationally known, locally respected and revered, look for more creative growth from the already eclectic emcee who's continually elevated her game, name and work ethic.