It's with great sadness that DubCNN has to report that DJ Crazy Toones has passed away.
Pictured DJ Crazy Toones [left] with K-Dee of Da Lench Mob.
The legendary DJ and producer had a career spanning the decades, initially in the 90s alongside his brother WC, Chilly Chill, Big Gee, Sir Jinx and Coolio as a member of WC & The Maad Circle – then working with Westside Connection and Lench Mob Records.
In recent years he's been Ice Cube's official tour DJ and in our most recent update was part of a record with Young Maylay called "Make You Wanna Cry."
Today the news broke across social media that CT had passed away, we believe due to a heart attack. Fans and artists alike have been sharing their grief on social media – including Mack 10, Immortal Technique, Ben Baller, Alchemist, Ice T, DJ Premier, DJ Pooh, Xzibit, Big Boy, E-A-Ski and more [click here to jump down to the tributes]
DJ Crazy Toones was always a supporter of DubCNN, from our earliest days right through to our most recent past. In 2006 we had the honour of promoting and releasing his "first mixtape of this millennium" entitled; "CT Experience" with DJ Skee & DJ Reflex
The project featured Ice Cube, The Game, Snoop Dogg, WC, Daz, Damani, Xzibit, MC Ren, King Tee, Jayo Felony, Soopafly, Young Maylay, Bad Lucc and many more. As a tribute to CT we've got the full project for you to stream below. You can see our entire archive of Toones here including interviews in 2006 and 2007.
DJ Crazy Toones – CT Experience (Mixtape) (Audio)

01) The Arraingement (Intro)
02) G Shit (Ice Cube & WC)
03) Roll On Em (WC, Xzibit, MC Ren, & Young Maylay)
04) The Wait Is Over (Remix) (Damani & WC)
05) South Central (Skit)
06) Will I Die (The Game & Gusto)
07) Definition Of A Mixtape (Skit)
08) You Aint Street!!! (Mad CJ Mac)
09) Gangbang Music (Soopafly & Kurupt)
10) This Life (Snoop Dogg & WC)
11) The Rat Pack (King Tee, Young Maylay, Roscoe)
12) Mixtape Shit (Ice Cube)
13) How To Survive In The LBC (Daz)
14) Its Going Down (Feat. WC)
15) We See You Niggas (WC, Jayo Felony, & Young Maylay)
16) The Powa Of Mix-t-a-p-e-s (Skit)
17) Where You From (Bad Lucc)
18) Hoodrat Bitch Part 3 (P.S.)
19) Why We Thugs (Ice Cube)
20) Bangin West Coast (Soopafly)
21) You Can Have A Crazy Tape (Skit)
22) Black Ty
23) Outro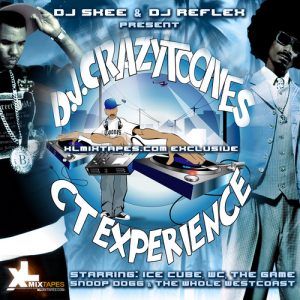 RIP DJ Crazy Toones – the entire DubCNN team's thoughts and prayers are with WC, Ice Cube and your families.
Tributes
RIP to a true west coast legend. @crazytoones
Your mixtapes and I mean real mixtapes will always stay in my possession. 🙏🏼😔🙌🏼

— BEN BALLER™ (@BENBALLER) January 9, 2017
RIP DJ Crazy Toones. #WestCoast #HipHop

— IG: TechImmortal (@ImmortalTech) January 9, 2017
RIP DJ Crazy Toones
Westside Connection For Ever !
We gone miss you homie pic.twitter.com/FNgkDGtQGU

— Mack 10 (@OfficialMack10) January 9, 2017
Rest in Peace DJ Crazy Toones.

— Alchemist (@Alchemist) January 9, 2017
OG Crazy Toones was a Real WestCoast Rider… Man!! https://t.co/0bbcowBXC3

— ICE T (@FINALLEVEL) January 9, 2017
🙏🏾No words 😞 pic.twitter.com/lovn9gO52I

— DJ POOH (@DJPooh) January 9, 2017