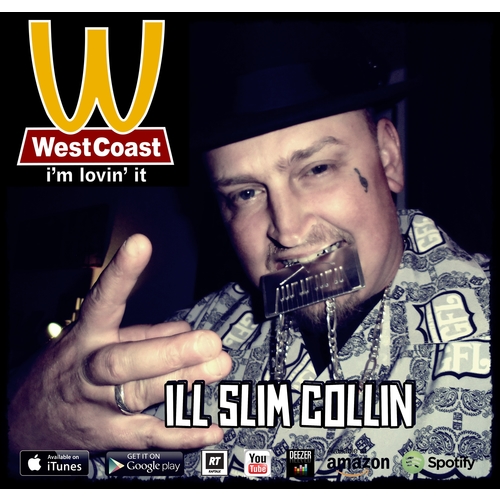 Recently DubCNN spoke with West Coast hip-hop music producer, Ill Slim Collin, for an interview. We discuss his source of inspiration for producing music, his top 5 emcees and producers, his upcoming projects, and more. Check the interview below. Only on DubCNN.
---
Interview Conducted by West Haven Blast (2017)
---
DubCNN: DubCNN checking in with G-Funk producer/artist Ill Slim Collin. What's good fam?
ISC: Im good, I'm hustlin', grindin' as usual, u know.
DubCNN: Ok, you have collaborated and produced for many well-known and established artists.
Can you tell the fans a little bit about some of the artists you have produced for?
And how did you get your start producing tracks?
ISC: Yeah i got this huge luck, and blessings, that a lot of these great and legendary artists seen the talent in me, believe in me, want to work with me, and pushin' me…I appreciate that till the end of my life, cause thats what i always wanted; to make it into this game. Everything was really interested to me since a young age, was just the music!
DubCNN: How were you able to break into this highly competitive hip-hop game as a producer fam?
And have you emceed in the past?
ISC: Honestly most people dont know anything how work it is as music composer & producer and they wouldnt believe me when i say it's a lot of hardwork. But thats the damn truth. It's a lot of straight up work and energy that u need and fosho sum blessings as well too.
And, yes i started doing music, rappin back in the days, like 15 years ago. But that's nothing we need to talk about. (laughed)
DubCNN: What made you want to pursue a career in music Slim?
And which artists inspire you to produce?
ISC: Good question cuz. Let me explain this first, I'm an ARTIST…I'm a born artist. I have to do my art to clean up my soul
and to feel good to myself thats all. Actually i just do it for the luv! If i would do it for profit, i would definitly do something different, period!
Im inspired by great timeless musicians like Tha Godfather of Gangsta Rap, Eazy E (RIP), Barry White (RIP), Phil Collins, Do or Die, Ice T, Johnny J (RIP),
Daz Dillinger, C-Bo, Nate Dogg (RIP), Bob Marley (RIP), Ice T, Thug Life, Dresta, Mac Dre (RIP), QD III, Dru Down, Young Buck, Too $hort, Prince (RIP), South Central Cartel, Crooked I, Getto Boys, Biggie (RIP), Lee Scratch Perry, Father Dom, Suga Free, Butch Cassidy, Sade, 2Pac (RIP), Wu Tang, Paul Wall, Snoop, Cypress Hill, Above the Law, Yukmouth, and last but not least, cannot to forget DMX!
DubCNN: What was it like growing up in your city Slim?
ISC: Yeah, what was it like?..It was defintliy kind of fucked up at the time for me, because i was growing up in a low-level broken household. Father left at a young age and mother was a person who couldnt give love or show love, plus she was more into drinkin, alcohol, and taking any pharmaceutical. So i was more into hanging up in the streets, but thats a chapter i dont want to talk about too much (because of the simple fact that everyone does)…the rest is history (laughed).
DubCNN: In your opinion, how has G-Funk affected the Hip-Hop game as a whole?
ISC: The sung Refrains in rap tracks, thats what comin straight from G-Funk u know.. Thanks to the pioneers Warren G & Nate Dogg (RIP).
DubCNN: What is your opinion on the state of Hip-Hop today?
ISC: Honestly, i can't relate to most Hip Hop coming up today, i dont can feel it. It's a disgrace, but what should i say? I dont feel the artists and their weird style. I dont wanna drop no names…but u know..
DubCNN: Top 5 MC's of all-time? Top 5 Producers of all-time?
ISC: Now thats a always random Question to me (laughed). Top MC's for me are Pac, Scarface, Paris, Tragedy Khadafi, X Raided,
ok now they 6 but i have to add the General Big Tray Deee to this list too…
and Top Producers are definitely to me: DJ Quik, Daz, Battlecat, DAM Funk, and Warren G as well.
DubCNN: What can we expect from Ill Slim Collin in 2017?
ISC: I'm workin on my new upcoming album, my 5th producer album… I'm also involved on a lot of productions of various artists;
plus we are working on the 3rd episode of "ISC/G-FUNK TV", which wil be released somewere in 2017…
DubCNN: What recent projects are available now for purchase?
ISC: My first album "Fly with me", my 2nd album "Life", my 3rd album "Grime Funk" and my 4th album "Still Waters Run Deep".
Plus all the tracks i produced for various artists albums as well.
DubCNN: Where can fans find you on social media?
ISC: Facebook, Twitter and Youtube as well, Instagram and Snapchat i don't use cause i don't fuck with i-phone and all this other modern type of cell phone stuff..im oldschool as fuck (laughed).
DubCNN: Thanks, from DubCNN fam. Anything you would like to add?
ISC: Thanks to ya! Thanks for ya always strong support on me, and to all the people out there who appreciate my music, i got nothing but luv for ya and thats foreal… G-Funk fo Life!