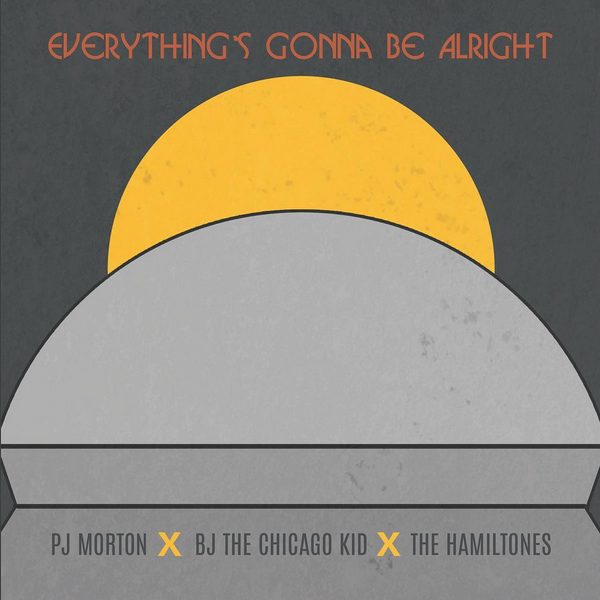 PJ Morton Aims to Uplift in the Face of Angst in America in New Song "Everything's Gonna Be Alright" (feat. BJ the Chicago Kid)
Maroon 5 keyboardist and solo artist PJ Morton made uplift song, "Everything's Gonna Be Alright" in reaction to all of the tension and issues America, and its citizens, are currently dealing with. "Everything's Gonna Be Alright" is one of the singles off of PJ's album, "Gumbo", which was released on April 21.
The handclap shuffle of "Everything's Gonna Be Alright" (feat. BJ The Chicago Kid and The HamilTones) builds into one of the album's most powerful hooks, nodding to Marvin's "What's Going On."
"As people, we've gone through a bunch," says PJ. "Look at the world. You've got the Black Lives Matter movement, the presidency, racial tension, and the way we're divided in the country right now. That's the subject matter. We're still here though. I'm saying, 'I know this is one of the craziest times we've ever been in, but everything's gonna be alright.' The HamilTones and BJ are both current but old school, so they brought that perfect mix." PJ Morton
BJ the Chicago Kid is powerful and very specific in his commentary on America, singing "Killin' us dead, like our lives don't matter (Everything's gonna be alright)/ I can hear you loud and clear (Everything's gonna be alright)/ It feels like you don't want me here (Everything's gonna be alright." The verse is an obvious reference to the regular occurrence of interactions between law enforcement and African Americans that end up in violence or death.
While the song was released with his album, PJ is pushing now to share "Everything's Gonna Be Alright" with as much of the masses as possible in the hopes that it can offer some healing and inspiration, much like Marvin Gaye's music did for the Civil Rights Movement.
PJ is currently preparing for JazzFest in his hometown of New Orleans, where he will perform on May 5 as a solo artist (was there last weekend performing with Maroon 5). Fans can also catch PJ at Essence Fest, and on international tour this summer and fall with Maroon 5.
1. First Began
2. Claustrophobic (feat. Pell)
3. Sticking To My Guns
4. Religion
5. Alright
6. Everything's Gonna Be Alright (feat. BJ the Chicago Kid and The Hamiltones)
7. They Gon' Wanna Come
8. Go Thru Your Phone
9. How Deep is Your Love
Check out "Sticking To My Guns" by PJ Morton, which he recently performed live, via NBA playoffs on TNT
ABOUT PJ MORTON:
By the time GRAMMY Award- and Dove Award-winning singer, songwriter, producer, and multi-instrumentalist and Maroon 5 keyboardist PJ Morton moved back to his native New Orleans in 2016, he had built an unbelievable career.
In addition to boasting collaborations with Adam Levine, Lil Wayne, and Busta Rhymes, his critically acclaimed 2013 offering, New Orleans, earned a 2014 GRAMMY Award nomination in the category of "Best R&B Song" for "Only One" [feat. Stevie Wonder]. Pitchfork called it, "a smooth and soulful pop/R&B hybrid," and the record dramatically expanded his influence. In addition to figuring prominently on Maroon 5's multiplatinum Overexposed and V, Morton has written and produced for everybody from BJ The Chicago Kid, Jermaine Dupri, and Jazmine Sullivan to Monica and India.Arie, winning a GRAMMY for collaborating with the latter in 2008. His music has also popped up in films such as Couples Retreat and more.
Among many other accolades, he has received Dove and Stellar Awards, published his literary debut Why Can't I Sing About Love? in 2009, and become music director for Solange following the release of her critically acclaimed opus A Seat At The Table.
Relocating from Los Angeles, he returned home with a pronounced fire and hunger. It simmers throughout his 2017 solo album and first offering for his own Morton Records, Gumbo from the funkified grooves of "Claustrophobic" [feat. Pell] to the unifying and undeniable message of "Everything's Gonna Be Alright" [feat. BJ The Chicago Kid & The HamilTones]. This is a new beginning for PJ and real soul.
KEEPING UP WITH PJ:
Facebook | Twitter | Instagram | Soundcloud | YouTube | VEVO