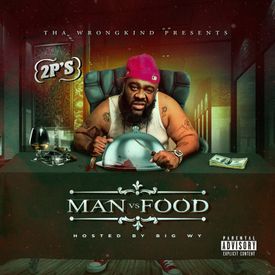 "Lynwood's Finest"
Recently, DubCNN sat down with Lynwood, Ca. and rising Wrongkind Records hip-hop star, Bigg Tupp (aka Bigg Tupp Wit 2P's In It), for an exclusive interview. Check the interview below, and be sure to download the new Big Tupp mixtape hosted by Big Wy, "Man vs. Food" below.  Follow Bigg Tupp on Instagram. Interview conducted by fellow Lynwood, Ca. native, and childhood friend, West Haven. Only on DubCNN.
Download "Big Tupp x Big Wy – Man vs. Food (Mixtape)" Here
"Mack 10 on Steroids" – Mitchy Slick
---
Interview conducted by West Haven Blast (2017)
---
DubCNN: DubCNN checking in with West Coast heavy hitter, and Lynwood, California representative, BIGG TUPP…What's good fam?
Big Tupp: Whoooop…What's good dawgie. I been waiting to get a a chance to sit down and holla at y'all.
DubCNN: For those that don't know, BIGG TUPP has had an impact on the West Coast rap scene for a few years now. What initially inspired you to pursue a career in music?
Big Tupp: I appreciate that. Man I really don't know why I chose this fucked up game to be in…Nah I'm just playing, but I really started creating my own music just to be heard and just to express what I was going through in my neck of the Woods and rep my home team. It really didn't turn into a career or a business for me until later on in life. Music has always been a passion of mine since I was a kid, and I guess that's one of the reasons I take it so serious.
DubCNN: You have various collaborations in your catalogue. From MITCHY SLICK, OYG REDRUM, C-BO, etc…Can you tell the fans a little more about some of the collaborations you have been involved with? And do you have a favorite?
Big Tupp: Yeah Slick, Rum, C-Bo, man I've been fortunate to work with some of the greatest. From Squeak Ru (West Side Connect Gang), Tweed Cadillac (Penthouse Players Clique), Tha Relativez, Compton Menace, and there are a whole lot of other "famous" or well known MC's to name that I've worked with. My favorite has got to be Phuj Doose though. I really got it (and get it) in with him in the streets, so I know everything he rap about is authentic and vice versa. It be a trip to hear how he bring what we or he did in the streets to life in a song. And he nice on the mic!!! Give you A1 work every time. You'll probably hear him on every project I've got, except for when I drop "Fuck Features"!! The same for Donny Ru and a few other homies I worked with, and banged with throughout the years.
DubCNN: If I am correct, you are also on the West Coast label imprint, WRONGKIND RECORDS. How did this situation come to fruition?
Big Tupp: Yeah dat (in my CEO Mitchy Slick's voice)! I been whoopin' wit Slick since way back in them MySpace days. My relative Donny Ru put me up on him and his music. He told me "it's a real nigga out of South East Daygo that you got to meet". I reached out to him (Slick) and we started gettin it in in the streets. Next thing I know he hit me and said he had a spot for me on his label. I signed, and I can honestly say they took me to another level. They took my music out of my hood and got me heard in other regions. Slick is a good dude too. Before then, he was always mentoring me on this music shit. He told me I was "Mack 10 on steroids" and I was one of the dopest that he ever heard, but I had to work on my sound quality. Played a big part in taking a n***a who can rap good, and turning it into a business for me. Wronkind!!
DubCNN: You are seriously holding it down for the city of Lynwood fam. Probably one of the first artists ever to truly represent Lynwood thoroughly. Do you feel like the city is now properly being recognized?
Big Tupp: Damn I appreciate that G. Yeah I rep my city til the death of me!! I kind of feel like we out there but you know, when I hear artists from other areas shout out surrounding cities without giving it up to 'The Wood', I feel like I got more work to do, more MC's to destroy or whatever it takes. I be taking that s**t personal low key. It's n****s wit bars out here though. It's just a lot of street politics and unforgiving deaths that's keeping a lot of us from coming together for the bigger picture. I said "us" because I know I'm apart of the problem too, but hopefully one day we get it right.
DubCNN: Can you tell the fans about your experience growing up in Lynwood, Ca?
Big Tupp: Hahaha man that's where I learned most of all my life lessons at!! Learned how to open doors and be a gentleman from moms, and at the same time learned how to be cold hearted from the streets. Lost my first friend to the streets at about 11 or 12, I think. Got my first piece of "you know" in Lynwood & sh****t…so yeah, you know that's just where it's at for me!! Even played football wit you when we was kids.
DubCNN: What is your opinion of the current state of the Rap Game?
Big Tupp: I put it like this, I really don't like everything that's out right now, on the radio or underground, but I think that's what makes music music. If everybody was as dope as I think me and you are, we wouldn't have anybody to talk about. As far as these n****s wearing these purses and making you question they masculinity and s**t, that s**t weak as f**k to me. Seem like n****s doing anything to be famous and that ain't bool!! My music I listen to is still the same gangsta s**t I grew up on because when I want to hear whatever or whoever I just go get it. I still support the n****s I like to hear rap.
DubCNN: Do you see more of a demand for original music, which rarely can be found on terrestrial FM radio?
Big Tupp: In the section that I rep and function at, I do see a demand. The homies always saying that people sound the same, beats sound the same and even videos look the same. Hell yeah it's a demand but like I was saying earlier, I still support, play and go buy what I like to listen to.
DubCNN: What projects are available as of now, that the fans can go purchase?
Big Tupp: Man I got about 6 mixtapes they can go grab for free from damn near anywhere, and if you don't find them, hit me on anything and I'll do my best to get it to you. I got 5 albums that can be purchased anywhere that you can buy music from, and again if you don't see it how you need it, hit me and I'll get it to you. You can find hard copies of everything on Tuppg.com though.
DubCNN: What upcoming projects can we expect from TUPP G in 2017?
Big Tupp: I just dropped "Man vs. Food", hosted by the homie Big Wy not to long ago. If you ain't got that you trippin. I've got aproject I'm almost finished with that's entirely produced by BigJayWalk. That's the homie from Sacramento. Y'all go look him up, he super nice wit it. Right now it's titled "The Realist Nigga I Know". I titled it that because I'm speaking on how I'm still living by the code and rules, but some of the people I've learned the game from not living by them anymore. Make sure you go get, that you'll see what I'm talkin bout. I also have "Gangsta's Need Love Too", dropping next year on Valentine's Day. I'm still here for the ones that love that real ish!!
DubCNN: Who are your top 5 MC's of all-time?
Big Tupp: Man that's hard to say. It's a lot of MC's I respect on the mic though. I'm going to have to think about that one…I'll have a list for you on the next interview blood hahaha…I listen to anything that's real though. Don't even got to be gangsta, just real life.
DubCNN: Where can fans reach out to you on Social Media?
Big Tupp: Y'all can find me on any outlet there is right now.. you should just be able to type in Tuppg on any forum and I should be there. You can always find me in the streets though. Especially where any whoooops at, you know!!
DubCNN: You also are very active with putting video content on your YouTube channel. I personally would suggest heads check out RAW, and BULLS HAT…a few of your more recent music videos; can you give the fans YouTube channel link fam?
Big Tupp: Fasho, I appreciate that. Just go to YouTube and type Tuppg and that's me.. https://www.youtube.com/user/TUPPG
DubCNN: Thanks TUPP G, from DubCNN! Anything you would like to add
fam?
Big Tupp: No Problem dawgie. Anything y'all need from me y'all got it. I'm still out here pushing that West Coast issue, so if that's what you need come get it from me. Whooop to all the homies behind them walls and on the streets…you still got me!!
www.TUPPG.com
www.twitter.com/TUPPG (@tuppg)
www.instagram.com/TUPPG
www.youtube.com/TUPPG
www.facebook.com/TUPPG
Snap: Tuppg