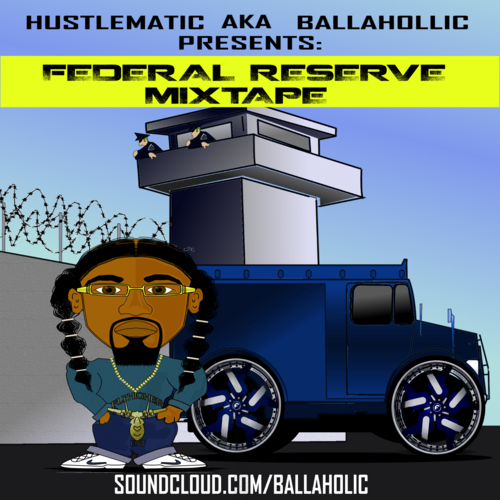 Up-and-coming hip-hop artist, Hustlematic, has just released his brand new mixtape titled "Fresh Out The Feds". As evident in the project title, Hustlematic has recently been released from incarceration and is now going full-throttle with his music career. With associations with King T, E-40, and others, Hustlematic seems primed to make a strong imprint on the music game. Stream and/or download the mixtape below.
With the release of his brand new mixtape, we decided to sit down with Hustlematic for an exclusive interview in which he talks about a myriad of topics, including the rappers that have inspired him, his affiliations with King T and E-40, and much more! Check the interview and download the mixtape below. Only on DubCNN.
---
Interview Conducted by West Haven Blast (2017)
---
DubCNN: DubCNN checking in with West Coast hip-hop emcee on the rise, Hustlematic. What's good fam?
Hustlematic: Everything good, I'm fresh out the Fed's, just touched the turf March 30th, 2017.
DubCNN: Ok fam. You have recently been released from serving time. Can you tell us a little about this situation, and how you maintained to stay focused on your career in this unfortunate situation?
Hustlematic: Yea I got caught up in 2013 for conspiracy to distribute meth. While I was down I continue to write music and practice in the music room. My wife and kids held me down and kept my spirits high. I still was connected to the music industry through my homie King T, and I ended up hooking up with Big Jess from 'Watts Up Production', through his cousin whom I was locked up with, Big Gene.
DubCNN: How did you get your start rapping? And what made you want to pursue music as a career?
Hustlematic: I've been rapping since I was 12, and it was something I always loved to do. My cousin Wino produced for Coolio. I was able to see first hand that you can bubble off of talent.
DubCNN: What projects are you currently working on Hustlematic? And what can hip hop fans expect?
Hustlematic: Im just wrapping up my mixtape "Federal Reserve", with features from my 2 son's Leslaflame, & Sky Dweller Space. And my homie Westtsew (west west). And hip hop fans can expect that unorthodox flow, and prototype delivery that I'm known for.
DubCNN: What was your experience like, growing up on the West Coast; in your particular city?
DubCNN: How would you describe your style?
Hustlematic: My style is really a one off. I don't think I really sound like nobody and I'm in a lane of my own because of what I talk about. Most D-boy rappers rap about coke. I rap about meth because that was my hustle, so you can say I got that meth music.
DubCNN: Which 5 hip-hop artists, would you say have inspired you the most?
Hustlematic: King T, MC Eiht, Eazy-E, Brotha Lynch Hung, and E-40.
DubCNN: You have been working with some major players in the hip hop game including, E-40. Can you tell us a little about these situations?
Hustlematic: Yea I met King T through one of my cousins in 2007, and we've been friends since then. I get most of my production from him and Poetic Beats. Big Jess, from 'Watts Up Production', has been blessing me with slappers for my LP, "By Any Means Never Scary". I hooked up with E-40 through his cousin, "Hot", in Las Vegas. He heard what I was working with and was down to do a song with me.
DubCNN: What other projects does Hustlematic have on deck for 2017?
Hustlematic: My mixtape "Federal Reserve" is dropping the 16th of June. And my LP, "By Any Means Never Scary", is dropping September on ITunes. I have some music ventures coming up with King T also, so stay tuned.
DubCNN: Where can fans find you on social media?
Hustlematic: My soundcloud
Soundcloud.com/balla-holic
And my Twitter
HUSTLEMATIC AKA
@leslonglie
DubCNN: Thanks Hustlematic; from DubCNN. Any last words? The floor is yours.
Hustlematic: Shout out to DubCNN for looking out on the write-up when I touched down from the Fed's. I'm gonna keep grinding this music out Much love.
---
Hustlematic – Fresh Out (Mixtape)
---