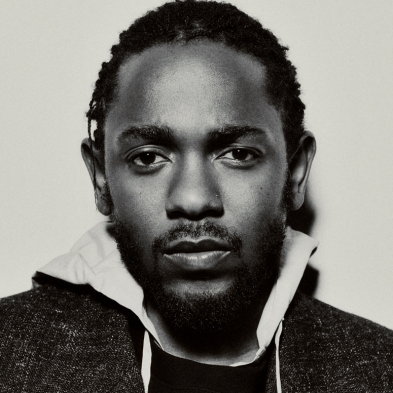 West Coast hip-hop superstar, Kendrick Lamar, recently sat down with legendary comedian, Dave Chappelle, for an interview/cover story chat for the August cover of Interview Magazine. Check an excerpt of the interview below. Watch Kendrick's Full Interview with INTERVIEW MAGAZINE Here. Follow Kendrick Lamar on Twitter.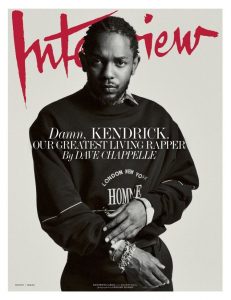 DAVE CHAPPELLE: Kendrick.
KENDRICK LAMAR: Dave. What's going on, brother?
CHAPPELLE: The last time I saw you was in Australia with J. Cole—you had just performed with Eminem. A lot's happened since then.
LAMAR: Definitely. How you been?
CHAPPELLE: I've been great. I want to start by asking you about a recent scandal in the comedy world: Kathy Griffin and the picture of her holding Donald Trump's decapitated head. My question for you is not about politics, but about the content in your work. In comedy right now, the issue is, "When does a comedian go too far?" And I imagine in hip-hop that's been a long-standing debate—even when I was coming up, when Bill Clinton went after Sister Souljah. When you write, how much do you think about the repercussions of anything you might say?
LAMAR: When I look at comedy—at Richard Pryor, at you—it's all self-expression. I apply that same method to my music. I came up listening to N.W.A and Snoop. Like them, it's in me to express how I feel. You might like it or you might not, but I take that stand.
CHAPPELLE: I have this thing when I write jokes; I call it my unseen audience. I'll think of certain people when I'm writing certain types of jokes. For instance: "What would my mother say?" Who do you think about when you write? Are you thinking about the streets? A lot of your work is openly spiritual and contemplative.
LAMAR: I really focus on what my fans will take from it, people living their day-to-day lives. At the end of the day, the music isn't for me; it's for people who are going through their struggles and want to relate to someone who feels the same way they do. I've got to take Mom out of the equation. I've got to go all-in, expressing myself, right there in the moment.
CHAPPELLE: What did you think when LeBron James, after an amazing, clutch performance [in a historic, 26-point comeback win during the playoffs], was like, "I just listened to DAMN. and got amped."
LAMAR: Moments like that … If I hadn't expressed myself in the studio, who's to say he would have been listening to the album? LeBron James or the little boy around the corner, we come from the same struggles, and it comes out of my mouth for them to relate to.
CHAPPELLE: I know you're a big Tupac fan. And Tupac used to talk about this phenomenon, as he got successful, that he was out of context. He'd say, "Where am I supposed to go? I can't be around the 'hood anymore, and they don't want me in the Hollywood Hills. Where am I supposed to go?" Have you run into any altitude sickness from your ascent, fighting all the way up to where you are now?
LAMAR: I think I'm still growing. The more people I meet, the more cultures I start to embrace, the more people I open myself up to—it's a growing process I'm excited about. But it's also a challenge for me, to be at this level and still be able to connect with somebody who's living that everyday life. At first it was something I struggled with, because everything was moving so fast. I didn't know how to digest it. The best thing I did was go back to the city of Compton, to touch the people who I grew up with and tell them the stories of the people I met around the world. Making To Pimp a Butterfly was me navigating those experiences. I went to Africa and I was like, "This is something I can enjoy and something I can challenge myself with."
Interview excerpt courtesy of INTERVIEW MAGAZINE.