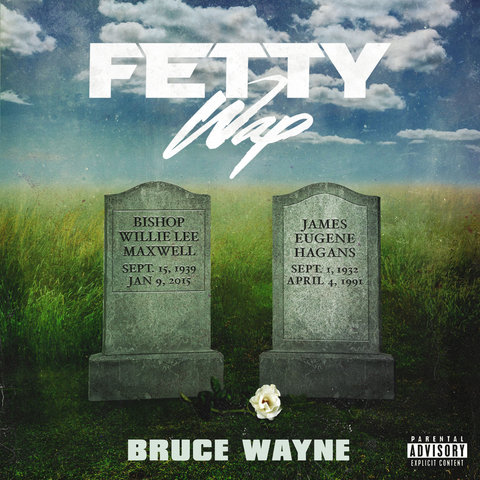 In celebration of his birthday, Grammy-nominated artist, Fetty Wap, released his 11-track mixtape, Bruce Wayne available on all streaming platforms today.
Bruce Wayne is a compilation of Fetty's celebrated ad-libs and trapezoidal vocals. Speaking with Complex, Fetty explained the project's cover art and why he released it on his birthday stating, "My grandparents mean the world to me. I know they aren't here, but I know they would be really proud of the man that I've became and my music. I've put out so much music in this past year, so I wanted to make sure to dedicate this record to them, It's 679 all the way. That's my birthday 6/7/90, so dropping it on my birthday on makes sense. I am Bruce Wayne, I've done a lot for people. It's not about bragging, but inspiring people to always give back. Squuuaaa!"
The mixtape's standout track "Bruce Wayne" is about Fetty's personal connection with the Batman persona – matched with enriched production and excitable lyrics. Bruce Wayne is a labor of love for the "Trap Queen" rapper. Identifying with the charitable efforts of 'Batman,' Fetty Wap has dedicated this chapter of his career to giving back to his community of Paterson, NJ. Recently, Fetty gave thousands of gift-cards away at a local grocery store during Easter and hosted a turkey drive this past Thanksgiving. Bruce Wayne's release comes shortly after the nation-wide For My Fans Tour and the third installment of the For My Fans III mixtape.
Make sure to take a listen to Bruce Wayne below and be on the look out for the official "Bruce Wayne" music video.
Download "Bruce Wayne" Here:
https://ffm.to/brucewayne
Bruce Wayne Tracklist
1. Bruce Wayne [Intro]
2. So Different
3. Strawberry Kush
4. Look At Me
5. Bruce Wayne
6. All For You
7. Star Struck
8. Westin
9. What We Do
10. Wavy
11. Hit Some Corners
Follow Fetty Wap: Instagram | Twitter | Facebook | YouTube