Legendary West Coast hip-hop artist, activist, pioneer and DubCNN family member, OYG Redrum 781, has passed away.
Redrum made his emphatic introduction into the rap game on the 1991 classic record, Bangin' on Wax, which featured some of the best up-and-coming underground talent within the underworld gangster scene in Southern, California. He, along with other notable hip-hop staples, including Domino and Big Wy, were featured on the album and gained national prominence as the project centered around the unprecedented union between the Bloods and the Crips. Redrum would shine like a sun amongst stars on this critically acclaimed project, kicking the door open for all blood affiliated rappers in the music game with the iconic single, "Piru Love."
Redrum, who is a cousin to Kurupt, would eventually sign with the infamous Death Row Records and record a multitude of tracks collaborating with a litany of artists. After the disbandment of Death Row Records, the OYG stayed active throughout the years appearing on numerous projects, including the 2006 album, "Rep Yo Set." A member of Mitchy Slick's Wrongkind Records, Redrum would also collaborate on numerous releases with Mitchy, as well as Sean Deez, aka Deez Inglez, and the Wrongkind Inglez record label division.
A jack-of-all-trades, Redrum would later collaborate with the DubCNN platform to produce a vast amount of epic cultural content. Whether it be interviews, live performances or behind the scenes footage, Redrum was a self-taught master of the craft. Links to a multitude of features that Redrum has participated in producing are listed at the bottom of the page.
This has been one of the hardest articles that I have ever written. Redrum was a dear friend of mine, and a dear friend to many others. With that being said, our condolences go out to his friends and family at this time. Rest in peace, Redrum. You will forever be loved and missed. Your flowers are well deserved and long overdue.
https://www.instagram.com/p/CVqjDeyvXQe/?utm_medium=copy_link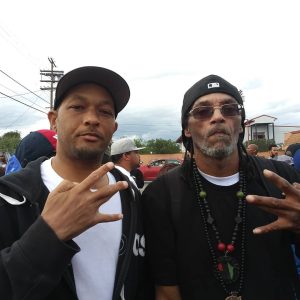 We're All In The Same Gang : Exclusive Concert Footage and Interviews
Tony Lane a.k.a. Black Tone Birthday Concert (DJ Quik ,Suga Free, Hi-C, WC, Compton AV, Kurupt, and more!)
Bloods, Crips and Other Gangs Hold "Unity Meeting" in Honor of Nipsey Hussle
DubCNN: 93.5 KDay Fresh Fest 2015 in Los Angeles, California