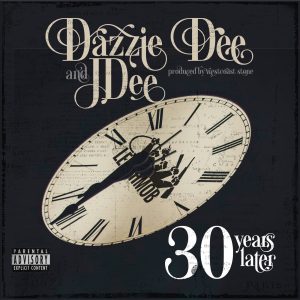 West Coast hip-hop veteran, Dazzie Dee, returns to DubCNN with a brand new single featuring Westcoast Stone, Dao Poeta, and J-Dee of Da Lench Mob. The self-explanatory, noteworthy release, "30 Years Later," is produced by G-Funk specialist, Westcoast Stone and is off Dazzie's upcoming album release, "Bakin Soda," produced entirely by Westcoast stone.
The single also marks the return to the rap scene by the aforementioned J-Dee, who was recently released from incarceration after more than 29 years. J-Dee rose to fame as a member of Ice Cube's group, Da Lench Mob. The Los Angeles, California collective consisted of rappers Shorty, T-Bone, J-Dee, Maulkie, and Ice Cube. The group made its debut on Ice Cube's first solo album, "AmeriKKKa's Most Wanted." With Ice Cube as executive producer, Da Lench Mob released its debut album, "Guerillas in tha Mist," in 1992. The album's lead single and accompanying video, titled "Guerillas in tha Mist," sent shockwaves through the rap game in the fall of 1992 with their aggressive demeanor and no holds barred political views.
Dazzie Dee's new album, "Bakin Soda," featuring J- Dee, Westcoast Stone & Dao Poeta is scheduled drop October 5th, 2022. Guest appearances on the project include Westcoast Stone, K-Dee, J-Dee, Dao Poeta and Dazzie's daughter Chocolate.
Check the video below and stay tuned!