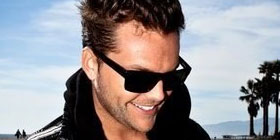 Platinum producer and rising rapper, Los Angeles own Russell W. Howard, is back in studio preparing tracks with unmatched grit and determination for his upcoming "Beautiful Distraction" mixtape set to be hosted by DJ Ill Will.
The project is set to feature Jadakiss, CTB (from Trapt), Ali Pierre, Jon Connor and Nipsey Hussle and is due for a February release.
Having already produced for hip hop legends like Jay-Z, DMX, and Paul Wall, Russ represents a rare breed of artist/producer and is now ready to shake up the rap game with his mixtape. We've just been sent the first sample of a record from the release and it features the aforementioned Nipsey Hussle for the single "Welcome To The Lovely Life" – check it out for stream or download below.
Russell W. Howard – Welcome To The Lovely Life (Feat. Nipsey Hussle) (Audio)
Enjoy and ensure you follow Russell W. Howard on Twitter and lookout for the release of "Beautiful Distraction" next month.