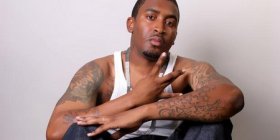 Young Keno was an ever-present last year on Dubcnn from his April Appearance on the All NEW Dubcnn Radio Show, his Real N!@@a Society Remix music video featuring Joe Moses, I-20, Roccett, Mr. Smith & Marleik directed by Dubcnn's own Jose HG and the No Shirts and Tattoos single with Jayare of Cali Swag District and C.T.E.'s own 211.
The plan for 2012 was always to drop his album "The Classroom" and so far this year we've dropped Bitch I'm a Star featuring and produced by Buccweet, the solo cut Talk About It – as well as its Music Video directed Jeff Reyes.
The last time we heard off Young Keno was in April when he released a brand new free mixtape Who Is 300 presented by DJ Lico and featuring Shorty Mac, Rio Appling, Buccweet, Jim Jones and Problem.
Today Young Keno switches the focus back on "The Classroom" as we've just been sent his latest single, the Disko produced "Everything Go / Go Gang" that has just been picked up for rotation by Power 106 – check it below!
Young Keno – Everything Go / Go Gang (Audio)
Stay tuned to Dubcnn for all the latest on Young Keno and the "The Classroom" project and be sure to follow Young Keno on Twitter by clicking here.