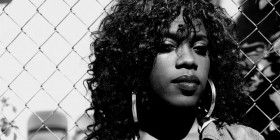 Rising Los Angeles emcee iLL Camille just released her second video in support of her free album "iLLUSTRATED", which dropped just a week before Christmas.
Here goes the visual for the Amplified produced "Lopsided" featuring Tay Walker. Directed by iLL Camille and Co-Directed by FURiS.
To get familiar download "iLLUSTRATED" and follow her on Twitter @iLLCamille.