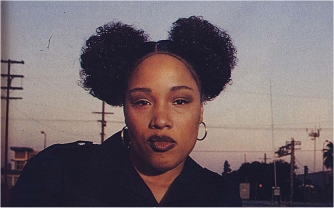 While we finalise our new DAILY WESTCOAST feature we wanted to drop off a throwback that was promoted by a post earlier today.
In recent months you've been treated to classics including N.W.A. Straight Outta Compton, the Kurupt leftover I Thought You Knew featuring Krook, Warren G's The Game Don't Wait (Remix) featuring fellow 213 members Snoop Dogg, Nate Dogg and Xzibit over a Dr. Dre production and the Xzibit classic Paparazzi
As if that wasnt enough we followed up with two Eastsidaz records G'd Up (Feat. Butch Cassidy) and I Luv It, Bow Down by Westside Connection, the iconic I Got 5 On It (Bay Ballas Remix) featuring Michael Marshall, Dru Down, E-40, Richie Rich, Shock G, and Spice 1, the festive classic Santa Claus Goes Straight To The Ghetto just before Christmas before The Rolling Stones – Miss You (Dr. Dre Remix) and then the 2Pacalpse Now album stream!
Today we return to 1994 and "Afro Puffs" – the first single released by The Lady of Rage from the Death Row labelled Above the Rim: The Soundtrack. The radio original samples " Love That will not Die" by Johnny "Guitar" Watson and the extended edition which we also have samples "Superman Lover" (Intro) also by Johnny "Guitar" Watson and features Dr. Dre and Snoop Dogg.
The Lady Of Range – Afro Puffs (Audio)
[raw]
[/raw]
The Lady Of Range – Afro Puffs Extended Version (Feat. Dr. Dre & Snoop Dogg) (Audio)
[raw]
[/raw]