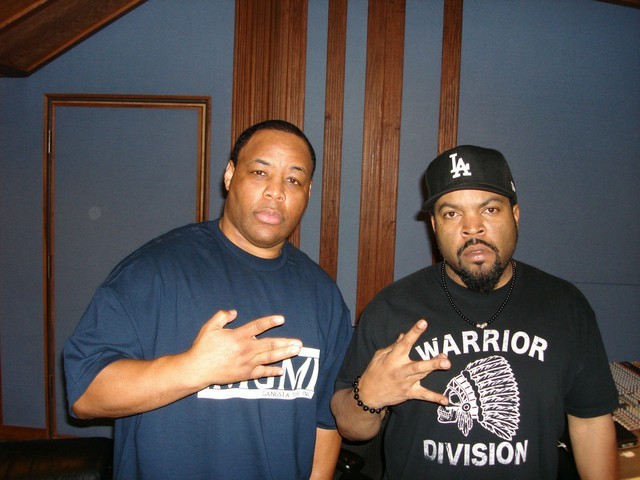 E-A Ski – who is currently finishing up his new album 5th of Skithoven – has recently taken time out to speak with HHDX.
In the interview E-A Ski talks about working on Ice Cube's upcoming record "Everything's Corrupt" and indicates he's been submitting instrumentals.
"I know we got one, one and another one that we messin' around with. So about three right now that we playin' with ideas for."
One of the confirmed contributions he's made is said to be a track titled "Still In The Kitchen" and Ski told HHDX that Cube is…
"Still chef at this shit, metaphorically speaking…it's dope how he's doing it 'cause there isn't really one prognosis. Just comin' from different angles. Real clever. Real clever how he doin' it."
Ski is – rightfully so – excited about his involvement on Everything's Corrupt, but EA-Ski is equally vocal about everything and everyone else in contention for the album.
"[Ice Cube]'s got a lot of records that bounce and just make you…it's really hard to explain, 'cause [there is] the stuff that catches you off guard, but he's made a lot of records. He just ain't sure which ones he wanna use, 'cause he's still building, he still working."
Having released the single "Everything's Corrupt" in November 2012 Cube has been quite on the LP but Ski makes it clear in the HHDX update that the title-track may not be indicative of the album itself;
"I keep playing around with a lot of ideas and seeing what's going to be the best addition to the album [for it] to be what he want it to be. He's not going to know what's the hit record right now. And that's why we in there making sure we make the best record. We gonna sit back, we gonna discuss it, make sure the album is cohesive, and everything feels good…'cause he wanted to take his time to make this record the way he wanted."
With no set-date for the album  Ski makes it clear that Ice Cube is in no rush to hurry Everything's Corrupt;
"He's got as good [probably] 16 that I've heard that sound dope as fuck, but like I said, he's probably got a lot of stuff that's unfinished that he'll just lay like a verse or two and leave it where it is. He's worked very hard [for] where he's at. But I will tell you this: what I've heard is sounding dope."
The report, however, does not mention the "Pocket Full of Evil" record that we know of – nor that Ice Cube is also on 2 songs for E-A Ski's upcoming "5th of Skithoven" album, "Questions" and "Please" which the duo released a video for right here on Dubcnn.
Earlier this year the Bay Area producer had linked up with fellow bay artists Really Real & Bobo for a tribute to the San Francisco 49ers called "Roll Call." Ski is still hoping to release his "5th of Skithoven" album later this year and is expected to feature Ice Cube, Techn9ne, B-Real, Freeway, B-Legit and already we've dropped teaser recording including the Locksmith featured On the Low, Off The Radar featuring King T and Young Maylay and then in May 2012 the video to the debut single from "Fifth Of Skithoven" featuring Ice Cube, called Please, directed by Rock Jacobs.
You've also seen footage of EA-Ski Behind The Scenes At Rock The Bells 2012 as well as him winning "Producer of the Decade" Award before releasing the video for his single from "5th of Skithoven" for the record Cruise Control – featuring IMGMI signee B.O.X on the hook – with Hollywood legend Danny Glover, marking his first appearance in a rap video, alongside Ice Cube! That was followed up in October with a visual for Amnesia.
Stay locked to Dubcnn for more news.