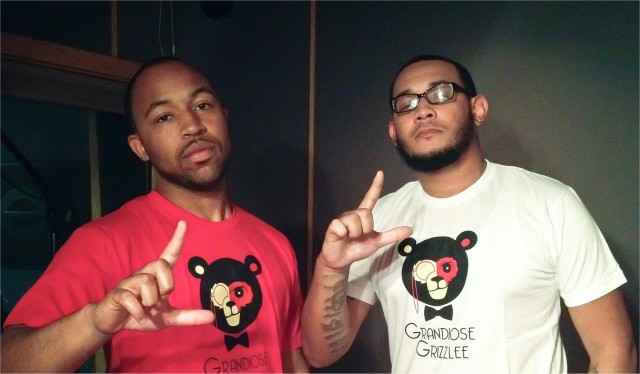 Coming off a strong start to 2012, last year Dubcnn was given the opportunity to interview Trend & Dnyc3 of League of Starz Production, who produced 2 of biggest hits of 2012.
Trend & Dnyc3 talk a little about themselves, LoS collective members and how their team works as a unit.
They also speak on their biggest hits "Faded" by Tyga ft Lil Wayne which reached #7 on the Billboard US Rap Songs and "Function" by E-40 ft Problem which reached #21 US Bubbling Under 100 Hot Singles.
The duo also spoke about the then upcoming project by Problem "Welcome to Mollywood Pt. 2".
Editors note, as you'll note below this interview was conducted in July 2012 (prior to the release of Mollywood 2) but due to circumstances it was missing until we were able to release it this month – as much of the content is still relevant we have opted to drop it now. Our apologies go our to Pun, Trend & D
…………………………………………………………………………………
Interview was conducted in July 2012.
Questions Asked By: Jeb Pasillas (@LAj3b)
…………………………………………………………………………………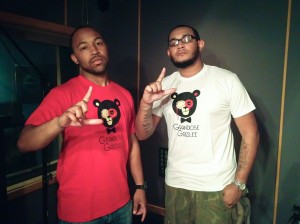 [raw]
[/raw]

…………………………………………………………………………………
Dubcnn.com: For those who dont know let us know a little about your personal background, coming up and how you got into production – plus talk a little about your influences as a youngster?
Trend: I'm 24 years old, I'm Los Angeles native born and raised. I been producing making music since 2005 with DNYC3 ya know, he thought me how to make beats and basically showed me the ropes and I took it from there and started my own of creating music, I thank him for that.
Dubcnn: What about you DNYC3?
DNYC3: Yea I started making beats when I was about 16, I'm 25 now and I was born and raised in Compton, California. I been making music with Trend before League of Starz. You know we still rocking together.
Dubcnn: What were some of yall influences growing up?

DNYC3: Me personally, I listen to everything so my influenced were based on feel good music, the music I was listening to at the time was always feel good music.
Dubcnn: What rappers were yall into growing up?
DNYC3: I was listening to Lil Wayne, E-40, Snoop, Jay-Z, Nas, The Hot Boys, Cash Money, No Limit, EVERYTHING, Nelly…
Trend: A lot of southern music because the influence of the percussion and their style of beats, heavy bass; It kinda gives me the vibe of westcoast just slowed down. Of course i grew up on westcoast music Dr.Dre, NWA, Snoop, E-40, Too Short, as well as the other greats across the united states you know; Master P, UGK, Jay-Z, Big L… a lot of others, the list goes on but my list has alot of music you know, different varieties.

Dubcnn: Could yall explain the concept behind LoS ?
Trend: LoS, It's a group of producers, sorta like The Hitmen that Puffy had back in the day, its a group of producers, we're LA natives some from different parts but for the most part we're all from out here.
Dubcnn: How many members are in the LoS?
Trend: Me myself (@TrendDaddy) , DNYC3 (@Dnyc3_SignedOn), Curtis King (@CurtisKing), Tone Bone (@BigToneBone), Dupri (@Dupri1_), Jay Nari (@SorryJayNari), Macado (@MacadoMusic) and Osirus (@O5IRU5), that's 8 of us.
Dubcnn: How did yall come together?

Trend: Well we all didn't come together collectively, we all agreed to work with our manager Pun, S/O to him, we all agreed to work with him differently  he came to me and Dnyc3 and then he reached out to certain other producers and that's how we all just became a group, we'll all be in the studio, we'll all work together ya know its just been amazing every since.
Dubcnn: Tavon Pun, he put yall together, he's the manager of LoS Production, what's his vision for you guys as collective group?
Dnyc3: He wanted to put together the elite production team from the westcoast cause we didn't have one at the time so he wanted to be the one that created that. So he wanted all of us to be solo producers but under 1 umbrella.
Dubcnn: Around what time was this that he started this production team?
Dnyc3: It was last year, 2011.
Dubcnn: The rapper Problem has positioned himself as a key figure on the Westcoast and the wider industry and he is also heavy aligned with LoS, could you explain how that opens up doors as musicians and opportunities you've experienced.
Dnyc3: Well basically Pun is Problem's manager; with that being said, we got producers, Problem the rapper and we're all under the same thing so why not work together. So we work together and Problem with his skills and our beats, it just makes it that much better and his style goes with our sound so it's just getting heard everywhere so people get to hear everything you do.
Dubcnn: And right now Problem has the hottest mixtape on the Westcoast right now with Mollywood!
Trend: Yea, "Welcome to Mollywood Part 1"
Trend: Honestly Problem ended up releasing another project called "Plan B" but Plan B got put on hold, theres still some thing they have to perfect on it, thats a project he really wants to perfect. I'm not mad at him he's gonna take his time with that so he put out a project which is why Welcome to Mollywood – which LoS produced – was put out for the streets just to get them ready for Problem, get a taste of what he's capable of and honestly it did really really well and people are rocking with it and I appreciate all that and I appreciate Problem for giving us the opportunity. It's a great thing for him and it's a great thing for us as whole; Diamond Lane, LoS the whole movement its just a good thing for all of us. It's just gonna open up more doors for us to create way more better production. It's a wonderful thing
Dubcnn: What about the E-40 joint "Function" cause thats the hottest song on the Westcoast right now, THE hottest.
(Both laugh)
Trend: I appreciate that, Function honestly, I made that beat for E-40….I made it on my lunch break at work, I was at my lunch break at work and I was making it for him, I was supposed to send him some music BUT when I made it I honestly thought "naw I don't think this is the one", I didn't have bass in it and thought I could come up with something better but once I laid it out, leveled it out, tracked it out and I sent it out to Pun. It was history from there on, E-40 got it and he loved it and ya know, everybody tryna function out here I guess now.
Dubcnn: So what does a day in a life usually look like for Trend?
Dnyc3: WORK! (Laughs)
Trend: Work, music, spending time with my kids, that's pretty much it. I mean I'm a regular guy, I just like making music, I like making nice music, hiphop, if its heavy bass, if its function music, whatever genre, I just like making music and just perfecting my craft and that's always a must as well as being with the family, being in the studio with LoS, Diamond Lane, you know me and Dnyc3 always work together, everyday its something music oriented, everyday,everyday no matter where I'm at, I'll always have hot tools to be working no matter where I'm at.
Dubcnn: What about Dnyc3, what does your day look like?
Dnyc3: My days are like work, family time, music and its the same thing everyday. Work, family, music in that order.
Dubcnn: Could yall name some other artists which yall have production credit for?
Dnyc3: Loverance, Snoop Dogg, E-40, Too Short, Problem of course, I got YG, Tyga, Casey Veggies, Clyde Carson (Laughs) there's a lot more I just can't think of em right now.
Dubcnn: What about you Trend?
Trend: As far as artists; Problem of course, Bad Lucc, E-40, Too Short, Snoop Dogg, I can't think of any of the top of my head *Dnyc3 interupts: We got the Beanie Sigel track* Oh yea the Beanie Sigel, I forgot about that one, Glasses Malone..
Dubcnn: I saw that yall did something for Waka Flocka too?
Dnyc3: Oh not me or Trend but Tone Bone
Trend: LoS, when we say "we", we look at things as a collective unit, we don't single each other out. We as a unit we have a lot of material with a lot of artists but single handedly, just those people that I named and other up and coming artists. We just ready to work with everybody, whoever's knocking we answering the door.
Dubcnn: Speaking of that, who are some artists that yall want to work with in the future?
Dnyc3: Me personally I already know; Kanye, Jay-Z, I wanna do some stuff with Lil Wayne, Drake, I wanna work with everybody cause me personally I don't just make one style of music. I can go pop, techno,dance. I can do it all, I'll work with anybody.
Dubcnn: What about you Trend?
Trend: Of course the legends. We already covered E-40, that's a blessing, Snoop, I would love to do something with Dr. Dre, DJ Quik, UGK you know R.I.P. Pimp, Bun B I would love to do some work with him, T.I., I would love to get some R&B records out as well not just all club but I would like to make some nice R&B music as well you know, Bieber, Michelle from Destiny's Child. You know something like that. I like to think out of the box, something out of the ordinary cause there's more than one genre of music. There's many ways to get heard and also LoS is so versatile we shouldn't just stick to one type of genre of music just function music, we make that, that's our sound.
We're gonna make that all the time but as far as the other stuff we create I personally wanna get that heard as well. Anything outside of the ordinary, my personal thing that's what I wanna do.
Dubcnn: Is there any other material yall are currently working on right now?
Dnyc3: We working on Mollywood Part 2.
Trend: Mollywood Part 2, that's our current focus with Problem right now, get that going and pump that out
Dubcnn: Will that be released 2012 or 2013?
Dnyc3: I think it'll be released by the end at least 3rd or 4th quarter.
Trend: Yea if anything this year, if anything, ya know Problem is a workaholic and doesn't like to get too comfortable, that guy's work ethic is phenomenal. So he's always working, so when he's working and he needs beats, it goes back to us. When he's ready to work or he's working then we're working. So it's up to him, it's his call but we never stop cutting records. When they say it's ready then that's when it's dropping.
Dubcnn: Could we get a hint on any features that are gonna be on the mixtape?
Trend: Off the top Bad Lucc, yea Bad Lucc was a huge asset for Welcome To Mollywood Part 2 and he really added alot of flavor with his style of music so he's for sure gonna be on Welcome To Mollywood Part 2.
Dnyce: Don't forget E-40.
Trend: Yea E-40 off top. I can't really recall whos gonna be on the Welcome To Mollywood Part 2, cause we haven't sat down and gone over everything. Everything is still in the works, so we just working for right now so it's kinda hard to say.
Dubcnn: If yall were to produce a compilation album what kinda artists or sound would yall like for that album?
Dnyc3: We would like to display ALL the sounds that we have under our belt. If we do a compilation then it's not just gonna be a whole club compilation. We gonna try and touch different bases of the game to show people I work.
Dubcnn: Do yall like to collaborate with other producers as well?
Dnyc3: No, we…
Trend: Yea we don't really do the collaborations with other producers unless it's in house. If it's LoS or Diamond Lane, that's the only people we really collaborate with, we keep everything in house. We don't really step out of the box too often to produce.
Dnyc3: (Laughs) Not cool.
Dubcnn: Take your self out of hiphop for a moment, what other genres do yall take inspiration from?
Dnyc3: Other genres? Rock, R&B, Soulful type music I look to that stuff.
Trend: Neosoul, Soul Hiphop, Gangster, Dnyc3 he's excellent at Dubstep. He just acquired that and adapted to that so he's good at Dubstep, some Techno, Pop of course, already said R&B , Soul, so it varies.It's a varies, its a large variety of different styles of music we have.
Dubcnn: What are yalls Top 5 artists right NOW?
Trend: Right now? Of course Problem, Lucc you know the way they work, they work so hard it feeds off to us its like we feed off their work ethic. So Problem and Bad Lucc off top, I'm a fan of 2Chainz. I love his music and his style and he's also rocking with the Westcoast and our sound of music so S/O to him. I like 2Chainz, that 3. Of course E-40 that's my man, he gave me chance and that's a blessing to me. 1,2,3,4… I would have to say..Rick Ross, his last few albums and mixtapes really convinced me and I'm a real big fan of his music and his production as well. I love the live instruments, that's pretty much my top 5.
Dnyc3: My Top 5, Of course Problem, I have to say Tyga cause he gave me my big break, Kanye, Meek Mill and Lil Wayne.
Huge thanks to Pun, Dnyc3 and Trend for taking the time to speak with Dubcnn and S/O the entire League Of Starz family.