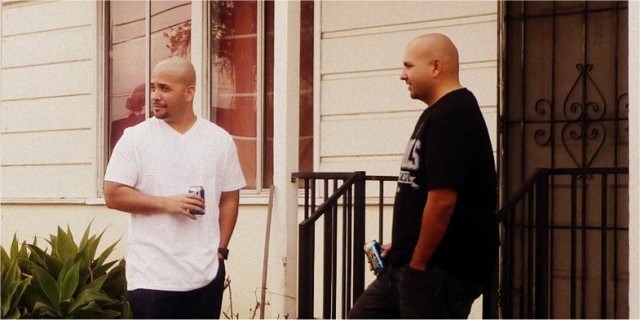 Erbin and Biologik better known as All Angles are gearing up for a new album next month.
The duo – who released their first project on Dubcnn Infinit Angles – The Roscoe Sessions with Infinit P'Tenchul in early 2011 – are gearing up to drop"Def Valley" in May.
Across 2011 they dropped the singles All We Do with Zapata The Ghost and Robbs The One, City Of Angles as well as its music video before dropping the the Full Free Download of City Of Angles alongside the Yello Blac featured track Perfect 10.
Last year we were able to bring you the video to Perfect 10 from City Of Angles – directed by Demetrius Navarro – before then confirmed that they were set to release a new album in early 2013 entitled "Def Valley." In that same update we gave you the first single from it called "Reaching Deep" produced by J.Camargo (who will produce the entire LP) and mixed by Brown Caesar.
Earlier this month we dropped the single "Progression" and today we can bring you the video for "Stairways" featuring Hazerd over a J.Camargo production.
All Angles – Stairways (Feat. Hazerd) (Video)
Enjoy, drop your comments below and direct to Erbin and Biologik via Twitter.