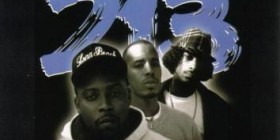 Today a gem of a track for old-school westcoast fans has emerged courtesy of DâM-FunK.
Los Angeles' self-proclaimed "Ambassador of Boogie Funk," DâM-FunK is a DJ/selector famed for his Monday-night Funkmosphere parties.
Today – via his SoundCloud – he has released the original pre-doggystyle version of "Ain't No Fun" ripped from a cassette he purchased at the Slauson Swap Meet two decades ago!
The OG version gives you a glimpse of what the track sounded like before Dr. Dre completed the record on the retail "Doggystyle" album, released via Death Row Records on November 23, 1993. Check the OG version below and drop your comments!
213 (Snoop Dogg, Nate Dogg & Warren G) – It Ain't No Fun (Feat. Kurupt) (OG Cassette Tape Demo / 1993) Audio



[raw]
[/raw]
Now get the untagged version

1. here

.
S/O to DâM-FunK from the DubCNN team!