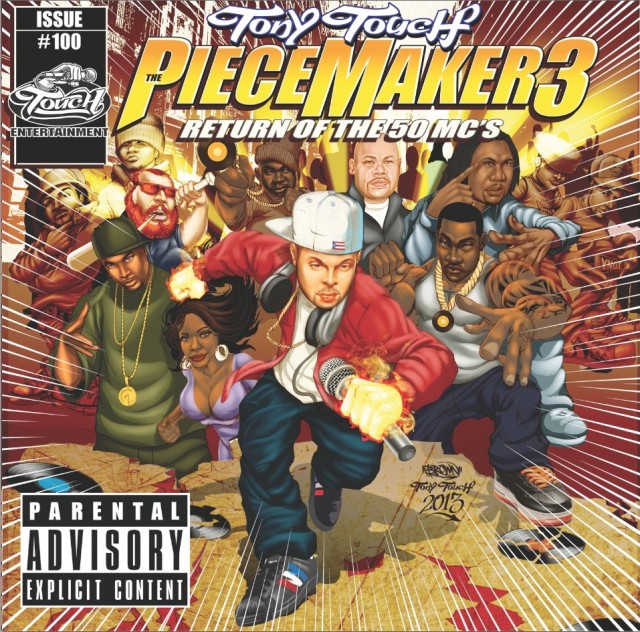 Rapper, DJ & producer Tony Touch is set to release the third instalment of his Piece Maker series on July 9th.
Toca, who currently hosts the Toca Tuesdays show on Shade 45, is renowned known for legendary mixtapes that include the first two in the "The Piece Maker" series.
Next month he'll release number three and as ever has enlisted the help of the industry to compile "Return Of The 50 MC's." Features from the likes of Busta Rhymes, Xzibit, Too Short, Kurupt, M.O.P, Sean Price, Black Thought, The LOX, Raekwon, Ghostface, Twista, Bun, KRS-One, Fat Joe, Redman, N.O.R.E and even Eminem.
The official cover and tracklist are below – as is the Too Short, Kurupt and Xzibit featured track title "V.I.P." – check it out and then order the album it via BandCamp.
Tony Touch – V.I.P. (Feat. Too Short, Kurupt & Xzibit) Audio
[raw]
[/raw]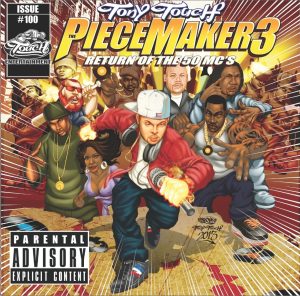 01) Tony Touch / D Stroy – 'Touch And D Stroy'
02) Rah Digga – 'Freestyle'
03) A.G. & Masta Ace – 'Double A'
04) Busta Rhymes, J. Doe, Reek da Villian & Rock Marciano – 'Hold That'
05) M.O.P – 'You Know You Love This'
06) Too Short, Kurupt & Xzibit – 'V.I.P.'
07) B-Real – 'Hit This' (Freestyle)
08) Papoose & Uncle Murda – 'Brooklyn's The Burough'
09) Sean Price & Guilty Simpson – 'Random'
10) Black Thought – 'Thought Process'
11) Styles P, Sheek Louch & Jadakiss – 'B.A.R.S.'
12) Liknuts – 'World Premier'
13) Raekwon, JD Era, Ghostface Killah & RZA – 'Unorthodox'
14) Twista & Bun B – 'Bounce'
15) Thirstin Howl III – 'One Person Thirstin'
16) Willie The Kid – 'Power Cypha'
17) Action Bronson & Kool G. Rap – 'A Queen's Thing'
18) KRS-One, Fat Joe & Sadat X – 'Take It To The Bronx'
19) Termanology – 'Aw Shux'
20) Joel Ortiz, Royce da 5'9" & Crooked I – 'Slaughter Session'
21) Eminem – 'Symphony in H'
22) Redman, Method Man & Erick Sermon – 'Let's Go'
23) Prodigy – 'Street Corner'
24) N.O.R.E., Al Joseph & Reek da Villian – 'Questions'
25) Gob Goblin, Starvin B & Spit Gemz – 'Untitled'