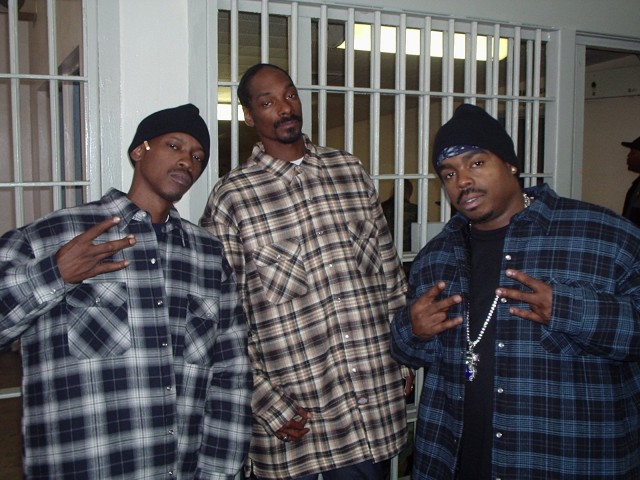 DubCNN recently had the opportunity to attend the video shoot for "Real Soon" which features Snoop Dogg, Daz, Kurupt, Nate Dogg, and Battlecat.
This song marked a milestone in the careers of the DPGC collective, as it was the first time in a very long while that all four were recording together.
We were happy to be a part of this video shoot, and to witness the great music that they create. We spoke with many of the artists at the shoot and compiled a dubcnn "Making Of The Video" Feature.
Thanks to our Event Reporters; Elliot & Justin.
Event Report
The song and video was made as a dedication to Stanley Tookie Williams, who faced capital punishment on death row in December of last year.
Snoop was instrumental in rallying for Tookie's clemency, and had even made trips up north to the San Quentin prison. However, after all their combined efforts, the governor still denied clemency.
Make sure to go out and pick up the "Welcome 2 tha Chuuch-Da Album" from your local record store, and look out for upcoming solo albums from Kurupt, Daz (So So Gangsta), Snoop (Blue Carpet Treatment), and the entire DPGC collective. Thanks to Koch and Doggystyle Records for inviting us to the video shoot. Please check out the exclusive behind the scenes footage below
Media
DPGC – "Real Soon": Exclusive Dubcnn "Making Of The Video" Footage (40MB Download or Stream Below)
Photos (Click to Enlarge)

DPGC 1

DPGC Watching Edit

DPGC 2

DPGC 3

Roscoe Freestyle For Dubcnn 1

Roscoe Freestyle For Dubcnn 2

Nate Dogg 1

Nate Dogg 2

Snoop Talks To Dubcnn

Nate Dogg 3

DPGC On Set 1

Bigg A (DPG Recordz)

DPGC On Set 2

DPGC On Set 3

DPGC On Set 4

Kurupt On Set

Junior (Raptalk) & Snoop

Corridor

Entrance

DPGC On Set 5

DPGC On Set 6
    
DPGC On Set 7

DPGC On Set 8

DPGC On Set 9

Daz Dillinger On Set

Daz Dillinger 1

Daz Dillinger 2

Daz Dillinger On Set 2

DPGC On Set 10

Roscoe 1

Bigg A (DPG Recordz)