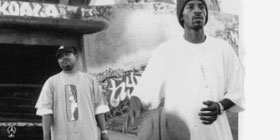 In late 2010 we dropped the exclusive news that Chico & Coolwadda had reformed and were planning to record new material [see; Did I Hear That Right? Chico & Coolwadda Reform!].
One half of the duo Coolwadda aka Coolie High released material from his Cool Ppl Entertainment imprint including the single Paranoid, the mixtape Coolie Say's Hes High and then Ghetto Camping Out featuring The Ugly Gang from his "Legalizing Business EP" early in 2011.
In November the duo released the first new music from the C&C reunion, a record called Let Me Know and today we are back as they've just dropped two new tracks for the new year said to be from their upcoming new LP "C&C4Life." First up is the Cali Classic featured "PCH" followed by "La La" which features Jazon.
Chico & Coolwadda – PCH (Feat. Cali Classic)
Chico & Coolwadda – La La (Feat. Jazon)
Enjoy the new music, hit up Coolie on Twitter and stay tuned to Dubcnn for the latest on the Chico & Coolwadda reunion album.
Feeling nostalgic? Take a trip back to 2001 with the classic High Come Down featuring Nate Dogg (RIP).