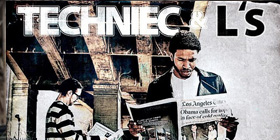 Just before the holidays Long Beach representer Techniec and L's Melodic of Glory For The People dropped off the FREE DOWNLOAD of their The Blacklist project which was originally released via our Digital Distribution Network for paid download earlier in the year.
The release featuring Bad Azz, G Malone, Bo Rocc, Pac ENZO Ten, Marc Spitz – put out under the BlocRebel imprint in conjunction with Dubcnn.com – was a huge success and spwaned a music video for the title track The Blacklist as well as the single Cold As Ice-T.
Today we are back as we have the Behind The Scenes video for another video from The Blacklist, this time for "I Know They Know" – check it out below.
Techniec & L's Melodic – I Know They Know (Behind The Scenes) (Video)
Not only that but the duo have also told us they are working with DJ-Age on a Techniec mixtape due out in the coming weeks and we've been given the first single for you to check out entitled "On My Way" – listen below.
Techniec & L's Melodic – On My Way (Audio)
Enjoy the single and video and if you haven't yet then download The Blacklist today. Show your support by checking out the official homepages of L's and Techniec and Like them on Facebook