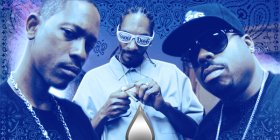 With Tha Dogg Pound's major release "Alumni" on the way, Daz and Kurupt drop a new sneak preview from the project called "Make It Hot".
Carlos 'LOS' McSwain produced the song, which will also end up on the "D.P.G.C'OLOGY" mixtape hosted by DJ Nik Bean. This comes a few weeks after the last leak from the mixtape called "I'm A Boss".
The full mixtape drops on March 1st, followed by the "Alumni" album later this year. Until then, this new track will do the job. And let's not forget about that "Forever In A Day".
Tha Dogg Pound – Make It Hot Feat. Snoop Dogg (Audio)