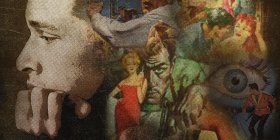 If you're not familiar with Andre Nickatina's young protege, MUMBLS, his new single "Parachute," pulled from his forthcoming "Hella Novellas" mixtape, is a good place to start. The 22-year old Berkeley, California-bred rapper enjoys substance abuse almost as much as he enjoys the off-kilter story raps of Dana Dane and Ghostface Killah, and both of those influences shine through on "Parachute," a tale of sex, drugs, and mayhem.
MUMBLS wrote the song, he says, about a real-life run-in he had with a few salacious females. "They had an abundance of MDMA, which I adore, and they were quite generous," admits MUMBLS, who adds that the song's title was inspired by some innovative drug use that went down that evening.
"They were putting the powder into makeshift capsules made of paper towels and called it 'Parachuting.'" For the video, MUMBLS developed the concept on his own before teaming up with director Ben Griffin from Prime Zero. The clip, shot all in one take, is all about the comedown and recreates what would likely go down as the most entertaining day-after ever.
"I'm so selfishly hung over that nothing can pull me away from smoking my weed and sipping my brew," cracks MUMBLS. "Not even a boobtastic girl fight." And to get into character, let's face it, there's no better substitute than the real thing. "I just drank a gang of beer and smoked until I really didn't care or know what was going on," says MUMBLS. "I almost forgot we were even filming a video."
Check out the "Parachute" video below:
MUMBLS – Parachute (Video)
Expect to hear more from MUMBLS in the near future.