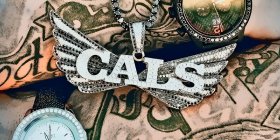 San Diego representative Cals is riding the success wave of his solo album "Paper Trail Gang", which dropped in late January. Boasting appearances from the likes of N.O.R.E., YG, Mitchy Slick, Bobby Brackins, Mann, Graph, Ethan Avery, Trae Dae and G. Truth, "Paper Trail Gang" is a solid release.
His radio single "Somethin' About Your Body" with YG, Bobby Brackins and Ethan Avery is heating up the airwaves and accumulated over 5 mio views, while his street single with Mitchy Slick "Things Ain't Changed" got the streets rocking.
Today we are leaking two more joints off the album. One is a collaboration with Grafh called "Sky's The Limit", produced by Rawsmoov and the other one, "She Callin' Me Daddy", is also produced by Rawsmoov. Grab the songs below:
Cals Sky's The Limit (ft. Graph) (Audio)
Cals – She Callin' Me Daddy (Audio)
"Paper Trail Gang" is now available on iTunes and all digital retailers.
Also be on the look out for Cals' collaboration with multi-platinum German rap star Sido. They shot a video in California to a song for Sido's upcoming project, keep your eyes open for that in the near future.