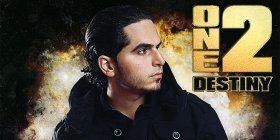 As we announced last week, Treacherous MC One-2 dropped his debut solo album, "Destiny", on Tuesday via Treacherous Records/EMPIRE Distribution on iTunes, Amazon and all digital retailers.
Across 2011 we kept you steadily updated on the project, which was originally supposed to be a double EP. During the year you had teaser records like the Hardcore (Remix) with Jayo Felony as well as music from the actual proejct, including In The Zone featuring Kobe and Half Man with Crooked I. Today we delve into the project for this Album Review.
Release Date: February 7, 2012
Label: Treacherous Records
Rating: 4/5




Dub Quotable:

"One shows a completely different dimension of his musical progression with this album"."
…………………..………………………………………………………….
One-2 has been one of the mainstays in west coast hip hop. After a couple delays and many mixtapes later, One is finally ready to unveil his debut solo album, "Destiny" to the world. Many of you will remember One speaking on dropping a double EP entitled History/Destiny about a year or so ago. Destiny has now taken the form of it seems the best of the best from both EP's and is condensed into a more cohesive project. Produced entirely by Komplex, the album starts off with the string laced banger 
This Life Of Ours
 featuring Chace Infinite.
Great intro track to start the album off with as One really showcases his lyrical prowess when matched with Chace. Another track in the same vein is Half Man featuring Crooked I. The sinister strings and slow prodding bassline serve as a perfect backdrop for One and Crooked to go in. One of the more lyrical heatrocks I have heard from the west in the last couple years. Even the more club driven tracks like Boa Constrictor featuring K. Young and In Tha Zone featuring Kobe work well due to the production and hooks.
Two tracks I currently have on repeat are Femme Fatale featuring Treacherous fam Jayo Felony and Knoc-Turn'al on the hook and Tears Tumble featuring Amin and Tena Jones. The former has the 3 west coaster politickin about ride or die chicks and the crazy ones out there plotting on a come up. Incredible beat from Komplex. The latter is a heart felt track about loved ones lost, and it really showcases One's storytelling and introspective ability on tracks. Amin also drops a nice verse as well and the hook is a perfect backdrop by Tena Jones.
Overall, One shows a completely different dimension of his musical progression with this album. Always known as a lyrical assassin on whether it be a mixtape or posse cut, One shows many different facets of his music on Destiny. Hopefully this is the first of more albums not only from One but Treacherous as a label moving forward. They have always pushed the boundaries of west coast hip hop with their production and lyricists. Destiny, fitting title because One is showing flashes of the great MC he seems destined to be."

………………………………………………………………………………
The views expressed here are those of the authors and not
necessarily those of Dubcnn as an organisation.
………………………………………………………………………………