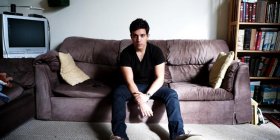 June last year was the first time we introduced you to the incredible new talent that is Azad Right – see; Azad Right "A Piece Of Mine" EP.
In that update we stated that "we see countless new artists and material passed to Dubcnn and every once in awhile someone bucks the trend of dissapointments and showcases an ability to put a genuinely interesting slant on the culture with an opportunity to influence the masses in a positive way," that stance hasn't changed and the months that have followed have been huge for Azad Right.
The Venice, CA artist – the son of a divorced-blind poet, classically trained pianist and violinist with a Bachelorメs degree of Iranian descent – dropped his first single last year on Dubcnn called Spiderwebs from his acclaimed six track debut EP A Piece Of Mine.
We then caught up with the man himself for an Exclusive Interview in September 2011 to learn a little more about him and understand his drive for success before dropped his full length project The Time Is Right for Free Download and via our Streaming Audio Players.
Since he dropped that 17 track release – which features appearances from Luna Angel, EQ, Jenilee, Sofia Enggren, The Bridge and Sinima over production from Jonathan Marquez, Professor O, David Dann – he has been riding an upward curve of success and today is back on Dubcnn with two new, recently released singles, as well as interview he just did with Billboard.com TMI!
First up is the Jonathan Marquez produced Better Days which is said to be from an upcoming release entitled "For The Hopeful" – check it below
Azad Right – Better Days (Audio)
Next up is another new record – featuring AHE & Jhene Aiko over a Kendrick Lamar sample – called "Growing Apart."
Azad Right – Growing Apart (Audio)
Finally we have the aforementioned interview with Billboard.com TMI's Julie Brown, where he discusses The Time Is Right, the success of his "The Fire" video as well his first co-headliner gig (alongside Planet Asia) that will take place in Downtown LA this Friday that's expected to bring in over 1,000 people! Want to be there? Tickets are $15 dollars and can be found Twitter.