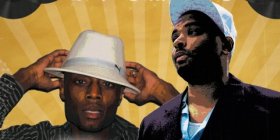 Hip-Hopメs best kept secret Nu Magik – who we first introduced last year – are a duo consisting of emcee Draz and producer Deuce Maxwell who rarely record in the same time zone, with Draz residing in Chicago and Deuce Maxwell in Southern California.
The two released their first combined effort called "The Vintage" in 2009 and Draztic discussed in his interview on Dubcnn in November 2010 and from which we dropped the single Summer Magik and its video.
The release was initially only available via iTunes before we dropped The Vintage in full for free download when they announced signing to emerging indie powerhouse HiPNOTT Records to release a planned follow up album called "V2."
After a hiatus Nu MAGIK returned to Dubcnn in February with the news that HiPNOTT Records will re-release their 2009 debut album The Vintage as a precursor to the duo's upcoming HiPNOTT debut, "V2" which is due early 2012.
The release of The Vintage was to allow the project to drop in physical format as well as to include two bonus remixes produced by UK producers Jazz Spastiks. In that same update we dropped off the single A Song for You featuring JusBrea of Deep Rooted and today we are back with one of the aforementioned Jazz Spastiks remixes for the record "Much Too Late."
Nu MAGIK – Much Too Late (Jazz Spastiks Remix) (Audio)
The Vintage LP is available for free download and for purchase on compact disc via Amazon.