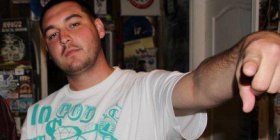 It's been over six months since we last hit you with new music from Orange County MC J. King. The artist – who first appeared in 2009 with singles including All Ive Ever Known with Crooked I, Money Motivated with Sav Sinatra and the J Steez produced Get To My Head alongside Kali – has been streadily releasing new music since late December 2010.
In late 2012 he dropped On The Grind featuring Glasses Malone, Ariano & Medusa over another J Steez production as well as We Hustle that featured Adriano & C4mula.
That material was soon followed up with the single Back On The Atlas produced by Soul Mechanix and featuring cuts by LD of Technicali Sound and within weeks a video for Back On The Atlas was also released.
All that new music was building up to his "Next To Bat" release which was due later in 2011 however the release slipped and is now due within the next couple of months and today we are back as a new video has recently been put out for a single called "I'm On It featuring P. Dot over another J Steez production – watch it below.
J King – I'm On It (Feat. P. Dot) (Video)
Stay tuned for more news and media from J. King from the "Next To Bat."