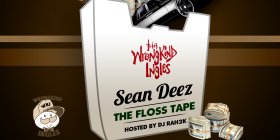 WrongKind Records artist and protege of dubcnn favorite Mitchy Slick just hit us with his brand new mixtape "The Floss Tape", which we have available for you to download for free as dubcnn's "mixtape of the week".
Sean has been on Dubcnn countless times down the years most notably in 2008 with his mixtape "VVS" which was hosted by DJ JiJi Sweet featuring the singles Hood and Bossin' Up as well as appearances from Strong Arm Steady, 211 and Damani with production from Disko, Dollaboyz and Dubb Knox.
Last year he was back on Dubcnn with his appearance on the Wrongkind "Yellow Tape" album as well as a mixtape project together with OYG RedRum781 called 489ers arranged by DJ Qwesscoast.
A few weeks back, we released a preview track off "The Floss Tape" called "West Coast" featuring Mitchy Slick among others. Today you can download the full project below:
Sean Deez – The Floss Tape (Hosted by DJ Rah2k) (Free Download)
Make sure you support Sean Deez by following him on Twitter.