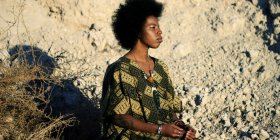 Today marks the 16th anniversary of 2Pac's "All Eyez On Me" and to celebrate this masterpiece, Georgia Anne Muldrow recorded a few remixes to give away for free. The tireless Inglewood singer linked up with Dubcnn to release the 4-track freEP, which includes "Letter 2 My Unborn Child", "Ghetto Gospel", "N*GGAS" and "Dear Mama".
"I understand the experience of being raised by a single mother very well" Georgia said about "Dear Mama". "I saw how many miracles our mom performed just for us to survive… I was thinking of that place where she dug from to stay strong: an introspective, focused place. the place where all the stresses cave in and silence remains".
"Pac's voice is very musical" Georgia continued, "so it's really there from the start as far as thinking musically. I just really let him take the lead!"
You can stream or download the tracks below, via Georgia's SoundCloud page:
Georgia Anne Muldrow – The 2Pac GeeMixes (freEP) (via Soundcloud)
Georgia Anne Muldrow's new single "Seeds" produced by Madlib is now available on vinyl. Fatbeats has it up for sale, support and pick it up by using the link here.