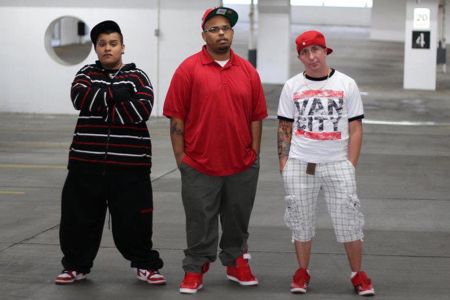 Lets take a trip to Vancouver Canada, where the team of Haze Ent been making hits for a while now, having worked with Crooked I, G. Malone, Ya Boy, Bizzy Bone, Lil Flip, San Quinn, C-Bo, TQ, B Legit, Shade Shiest, Dresta, Spider Loc, Big Fase 100, Tha Vill, Tha Realest, XL Middleton & many more.
In fact, no one in western Canada has more big name features than Haze Ent artist Koncreto. With mixtapes hosted by Reality TV Star Nick Hogan son of Hulk Hogan, and Westcoast mixtape staple DJ Ill Will.
Haze Ent is a 3 time westcoast Hip Hop Award Winner and the first Canadian ever to win at the awards.
Today we have 2 new music videos from the Koncreto & B-StyleBorder Bruthaz album thatメs hosted by Freeway Rick Ross. In 2009 at the Westcoast Hip Hop Awards in Portland Oregon, Haze met B-Styles and since than they have gone on to work on a lot of tracks with Koncreto & Lil DG. B-Styles is 2010 & 2011 Oregon Artist Of The Year. We have the 2 videos below, and look out for more coming soon.
B-Style & Koncreto – Fake Friends (Video)
B-Style & Koncreto – Ready For War (Video)
Go a head and follow them on twitter @hazeent, @Koncreto809604, @aggressivevery, and check their website www.sosohiphop.com.