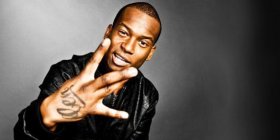 One of Hip-Hop most exciting prospects, Fashawn, is gearing up for a new digital release on April 3rd 2012. While he's wrapping up his upcoming solo album "Champagne and Styrofoam Cups", he is treating his fans to the Deluxe Edition of last year's critically acclaimed mixtape Higher Learning Vol. 2.
The original version was released in February 2011 with DJ tags from DJ Ill Will and DJ Rockstar for Free Download ib Dubcnn. On April 3rd, the project will see its official digital release, in untagged form and with three additional bonus tracks added to it.
Check out one of the bonus tracklis below and make sure to hit up the digital retailer of your choice on April 3rd:
Fashawn – Santiago's Revenge 2 (Audio)
If you missed Higher Learning Vol. 2 first time around download it today. The release features J. Cole, Grafik, GLC, Nio The Gift, Gilbere Forte, Bravo, Sam Hook and Tony Williams.