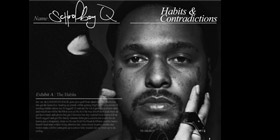 ScHoolboy Q has started 2012 the same way he finished 2011; on a constant grind! He dropped the acclaimed Setbacks early in 2011 and followed it up with his Habits & Contradictions LP from which we've brought you singles including Blessed featuring Kendrick Lamar, Sacrilegious and Druggys Wit Hoes Again.
In our most recent updates we've also brought you the video for NigHtmare On Figg St. directed by JeromeD, Druggy's Wit Hoes Again alongside Ab-Soul and the news that his label Top Dawg Entertainment, home to fellow rising stars Kendrick Lamar, Jay Rock and Ab-Soul recently put pen to paper on a joint venture deal with Dr. Dre's Aftermath Entertainment and Interscope Records.
Today we are back as Top Dawg Entertainment have just announced that ScHoolboy Q is heading out on the road for a tour titled THe Groovy Tour with Ab-Soul. The TDE duo will tour city-to-city across the country during April and May starting in San Francisco on April 20th and finishing on May 20th in Seattle. For the full list of cities and tour dates click here or enlarge the main image.
Still need "schooling" on ScHoolboy Q? Check out the Dubcnn hosted FREE mixtapes School Boy Turned Hustla and Gangsta & Soul and then cop Habits & Contradictions via iTunes today.