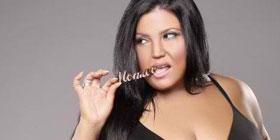 Toni Monroe has been riding a rising wave of success since she dropped her DJ Crazy Toones-hosted mixtape, モBig Girl Cookies: First Batchヤ to critical acclaim. The Cali-bred MC came strong with Dogg Pound emcee Kurupt on he debut joint, モYou Like Itヤ, and has been rocking shows with E-40, Ice Cube, WC, DJ Quik, Lady of Rage and others ever since.
Dubcnn had the fantastic opportunity to sit down with Ms. Monroe for an exclusive interview, where we talk about her New Yearメs Eve show with DJ Quik and El DeBarge, How she met up with DJ Crazy Toones, what her, her image vs. her music, working with Kurupt, and much, much more!
Exclusive Interview With Toni Monroe
Enjoy and be sure to follow Toni on Twitter and stay tuned to Dubcnn for more on Toni Monroe!