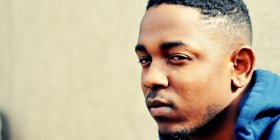 It's not without a reason that Hip-Hop's new hope, Kendrick Lamar, refers to Dubcnn.com as his "day one" site. We have followed Kendrick since the first days of his career, [First Update] when he was rapping under the moniker K.Dot and was working on his debut mixtape, "Training Day".
Today, we have a special "blast from the past" throwback video feature. The date is February 2007, in a recording studio in Los Angeles where we first met the Top Dawg Ent crew. At that time, TDE was only Jay Rock and K.Dot, the camp was buzzing as Rock's street smash "
" was in heavy rotation.
K.Dot was a few weeks away from the release of the "Training Day" mixtape and It also seems like Top Dawg Ent had a situation with Def Jam at the time?
In this unreleased interview, K.Dot tells us about trying to get his name out there, using the internet as a promotional tool and what him and Jay Rock are doing to separate themselves from other artists coming out.
He also talks about the "Training Day" mixtape, working with The Game, which artists he was feeling at the time and what we could expect from him in the future. Compare K.Dot in this interview to the Kendrick Lamar you see in Dubcnn's most recent interview and you will see a tremendous growth and maturation process!
Unreleased Throwback Interview With K.Dot (Kendrick Lamar) (February 2007) (Video/Text)