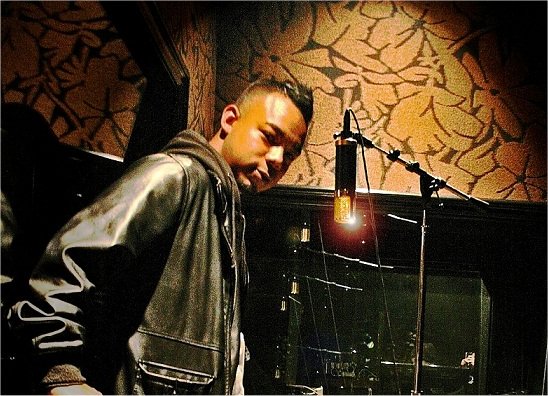 Damizza had a huge end to 2011 with the release of his long awaited book "Guilty By Association" for free via DamizzaBook.com. In the months building up to its release he took Dubcnn to release a statement about the book and recent interviews via Dubcnn; see Damizza Issues Statement To Outlets Regarding Book before speaking to Dubcnn directly for this exclusive interview.
Today we are back with Damizza on Dubcnn but this time in his capacity as a supporter of new talent. Manny Murillo, better known by his stage name Fresh, is an aspiring artist born and raised on the Eastside of Santa Barbara, CA.
He grew up and spent many of his formative years at the local Downtown Boys & Girls Club, a place he could escape from adolescent obstacles, and discover his own passions. One of those passions towards his late teens become music and Hip-Hop. Between the age of 17 and 23 – his age today – Fresh has been on a journey to hone his talent and learn his craft.
He started off Making Music with his high school friend/producer Carlos Los Ramirez – who Dubcnn readers will recall produced Cruzin' for Damizza and Butch Cassidy – who introduced him to Damizza.
Since that introduction Fresh – who cites Damizza as "like a big brother" – has gone on to feature on MixTapes and Compilations including various in the "Western Hospitality" series, "Return of the Hustle vol. 1 & 2" and "West Coast Connectz 3." He also featured in Tapwire Magazineメs モUnofficialヤ Madden NFL 10 soundtrack and right now is working on a debut album as well as a project with Damizza.
Today we are dropping off our first track from Fresh that is said to be from his project entitled "At the Studio (We Just Havin' a Ball)" featuring Butch Cassidy over production from Will Power for Baby Ree Productions.
The track, which features additional keys by "Jedi" Jared Moore and is engineered and mixed by Damizza was recorded at Area 51/Burbank, Ca, & Grannies House Of Hitz, Santa Barbara, CA with mastering by Sjoko Koppert @ Tantrum Studioz. Check the record below.
Fresh – At the Studio (We Just Havin' a Ball) (Feat. Butch Cassidy) (Audio)
Enjoy the record, stay tuned to Dubcnn for more news and media from Fresh and Damizza and ensure you follow Fresh on Twitter.