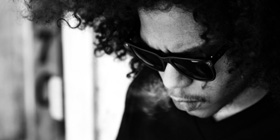 It's hard to believe that Top Dawg Ent is the home to four rappers and every single one of them is buzzing in their own right and pushing the envelope of this West Coast music. With Kendrick riding the high of his Coachella performance and ScHoolboy Q killing the airwaves with "Hands On The Wheel", Ab-Soul is next up to bat with the release of "Control System" on May 11th 2012.
Last week, we brought you the video to Pineal Gland, which had Twitter in a frenzy when it dropped.
Today, the good folks over at TDE sent over a new leak off the project, this time a collaboration with ScHoolboy Q, with whom he is currently on a nationwide tour. This record is called "SOPA", so you already know they're about to kick some knowledge!
Ab-Soul – SOPA (ft. ScHoolboy Q) (Audio)
The record was produced by Nez & Rio and, as usual, Mixed by Ali.