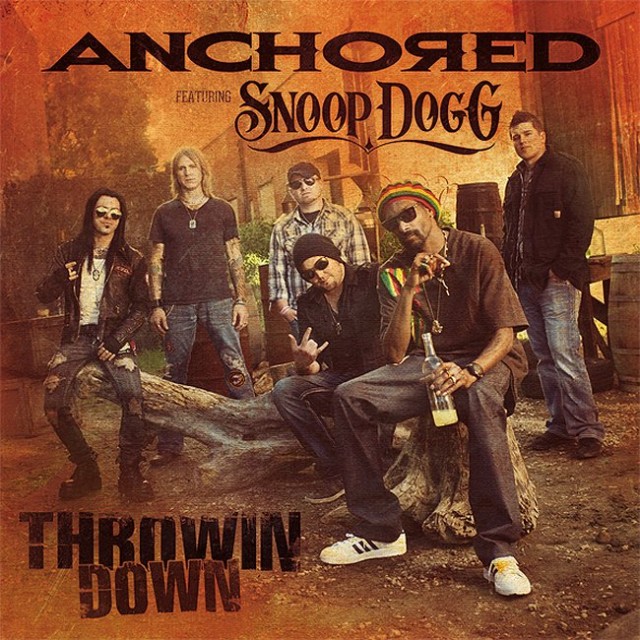 A little over a month ago we let you know that West Coast legend Snoop Dogghad recently been in NRG Studios in Hollywood, CA with Dallas, Texas based band Anchored and knocked out a single entitled "Throwin Down" which is produced by rock super producer Jay Baumgardner and features additional tracks recorded by Terrace Martin.
"'Throwing Down' is a song that makes you want to pop back a cold one," says Anchored vocalist Brandan Narrell. "It was great to get to work with Snoop Dogg and Terrace Martin, as they are both hip-hop icons. We're looking forward to everyone finally getting the chance to see this video and hear the song. It's gonna be a great summer."
The single – which will featured on the bands summer 2012 release – drops TOMORROW as a digital release at the same time as the music video which was shot in Los Angeles and directed by Devin DeHaven of Fortress Televison.
As promised we are back to offer the full single in streaming audio format as well as an exclusive teaser of the official video which we will return with when its available tomorrow. Check the track and video teaser below.
Anchored – Throwin Down (Feat. Snoop Dogg) (Audio)
Anchored – Throwin Down (Feat. Snoop Dogg) (Teaser Video)
Check back for the full video tomorrow and in the meantime checkout Anchored via GetAnchored,Twitter or Facebook. Our thanks go to Anchored, Snoop Dogg, Devin DeHaven and Fortress Televison.