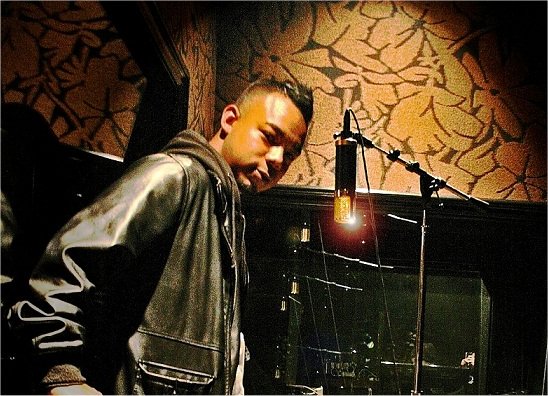 A little under a month ago we introduced you to an artist by the name of Fresh – an aspiring artist born and raised on the Eastside of Santa Barbara, CA – who is being mentored by Damizza and was gearing up to release his first solo project; see Fresh, Damizza & Butch Cassidy Are "At the Studio"].
Having started off Making Music with his high school friend/producer Carlos LosRamirez – who introduced him to Damizza – he has gone on to feature on MixTapes and Compilations including various in the "Western Hospitality" series,"Return of the Hustle vol. 1 & 2" and "West Coast Connectz 3."
In the last update we gave you a single from Fresh entitled At the Studio (We Just Havin' a Ball) featuring Butch Cassidy over production from Will Power for Baby Ree Productions with additional keys by "Jedi" Jared Moore and engineered and mixed by Damizza.
That record was just a taste of the 12-track mixtape Fresh is dropping today entitled "Man Of May" – cover shown to the right – that features production from Los, VC, Damizza, Amplified, Einztein and "Jedi" Jared Moore with guest appearances by Becca Solodon, Butch Cassidy, "Jedi" Jared Moore, Tannaz, ADUB, Damizza, VC and more.
Dubcnn once again goes a step further than other outlets by releasing the project for both download and via our streaming audio players for those at work or on the go and we urge you to download from dubcnn to truly support the westcoast and experience Free, no waiting, no passcodes download or streams via the HUB of Westcoast Hip-Hop, Dubcnn.com.
Fresh – Man Of May (Free Download)
Fresh – Man Of May (Streaming Audio)
Enjoy Man Of May, stay tuned to Dubcnn for more news and media from Fresh and Damizza and ensure you follow Fresh on Twitter.