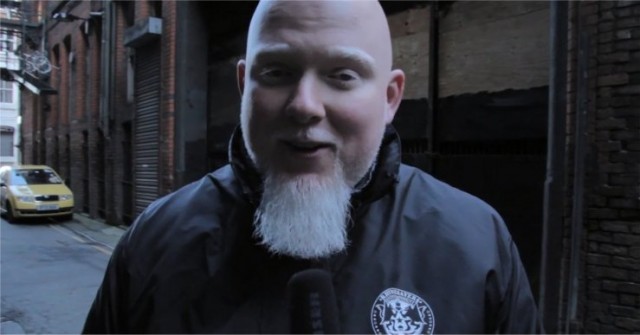 The term 'conscious rapper' is one that can get banded about a little too often and thus begins to lose its meaning. Any emcee who can idly spout any form of contrived social commentary can be dubbed (often by themselves) a conscious rapper.
On the other hand, there are musicians who, devoid of the necessity for a catchy tagline , can truly invoke thoughts and emotions through the content and soul behind their music. Brother Ali has been – and still remains – as prominent an example of the latter as there is likely to be in the world of hip hop.
Fresh off the back of an EP release, and with fourth album the evocatively-titled Mourning in America and Dreaming in Color set to drop August this year, Brother Ali has been on a European Tour with fellow Rhymesayers label-mates Grieves and Budo to promote the release.
If you haven't already seen Brother Ali's live set, it's got to be on the 'must see' list for any hip hop fan. Following the UK, Ali has dates set in Netherlands, France, Germany, Belgium, Denmark, Sweden and Norway before returning to the States to host Rhymesayers 5th annual Soundset Festival on 27th May in Minneapolis.
We caught up with Ali before his sell-out gig in Manchester, England to find out more about the new album, Rhymesayers as a label and his thoughts on some of the controversy he has faced for his music.
Check out the interview and footage of the show below.
…………………………………………………………………………………..
Interview was conducted May 2012
Questions Asked by: Mark Jorgensen
Video Filmed & Edited by: Bedos Mavanubu
…………………………………………………………………………………
Dubcnn Exclusive – Brother Ali
By: Mark Jorgensen
Brother Ali – Not a Day Goes By (Audio)
Brother Ali – Not a Day Goes By (Video)
………………………………………………………………………………
Watch The Interview


Dubcnn: You're here on your European tour, and it's brought you to this dingy little backstreet in Manchester, England. Tell us about the tour.

Brother Ali: Well, we're promoting the new album. I really wanted to get back here after we did a Rhymesayers Europe tour. I did the UK as well a few months ago so we were anxious to come back. You know, I feel like we haven't been as present over here as we need to be. I mean, we've always wanted to be more present here so when we did that tour, it was kind of our way of making a commitment. I always love playing the UK, the people are always very excited, energetic and, just, all the right things you want in a crowd.
Dubcnn: You mentioned Rhymesayers just now. For people who may not know too much about you, your an independent label but with top artists. What makes Rhymesayers different than your average label?

Brother Ali: Well, it's really unique because it started out as a friendship and a crew, and it really united people from a number of different aspects of hip hop culture. Basically, we love and respect hip hop as an art form. And as a culture. So we appreciate every branch that comes off that tree, because we love what it is, you know what I mean? We see the common thread of truth in all of it, and work with people based on the person that they are. Obviously they've got to make good art too, but based on the human being they are, and their integrity and personality, their character and all that stuff, it's really relationship based.
We promote each other, everybody, when you get on the label, Atmosphere is the biggest group so you go on tour with Atmosphere, until you build and you get a chance to perform for that audience, until you build your own audience. Then when you headline your tour, you take somebody else on tour with you. So I started touring with Atmosphere, and then once I was able to headline, I brought Psalm One, Toki Wright, Evidence…
Dubcnn: So you all help each other out, like a big family?
Brother Ali: Yea, exactly like that.
Dubcnn: You've had a couple of releases recently. You had an EP release around Valentines Day and a couple of other projects ongoing, so tell us about the new album.
Brother Ali: The album is called Mourning in America and Dreaming in Color, mourning like, to mourn, and the idea is that, it's specifically talking about my country and my society, but its true of all societies around the world. Two truths, the first is that, in our lifetime I believe we are in some of the most dire circumstances that we've ever seen, and I think its evident around the world that there's a lot of human suffering, there's a lot of despair, a lot of poverty, a lot of misery, and grief, death and hunger and a lot of people aren't living to the complete, dignified standard that human beings are qualified for. This is being done intentionally by the people at the top, the very few elite people.
We're being divided in every way possible, you know? We've always been thoroughly trained to see each other as the enemy, and what's happened recently in the last year or so is that it's got so bad, that people who used to see themselves as different, now are together in that pain, and in that struggle.
Dubcnn: And how is that reflected on the album?

Brother Ali: I think those barriers that used to feel effective to privileged people, or to people with a sense of entitlement, those old kind of barriers, and that old kind of strata isn't serving people the way it used to, because we're all hungry together, we're all starving together, we're all angry together, and I think that is creating the Dreaming in Color part of my album.
Dubcnn: You've courted a little bit of controversy in the past, most notably for Uncle Sam Goddam. What's your thoughts about that? Are you expecting a similar response to the new album?
Brother Ali: I didn't think about it too much when I did that song, and I'm not thinking about it too much now, because it just is what it is. I'm an emcee because of Chuck D, because of KRS One and because of Ice Cube; because of people who made bold statements. That's what took me from being a b-boy thinking hip hop was fun, to dedicating my life to rhyming.
Dubcnn: And is that a central theme of the album?

Brother Ali: Reality is, human beings have a deep innate sense that we're supposed to live with a certain level of dignity. The more space you put between a person and dignified human life, the more frustration and tension you create. That tension has to go somewhere and, you know, this is my take and my read, my commentary and my invitation for people to come together while we still have the choice.
You know, if I look at Nina Simone, Chuck D and I look at these people that I look up to..James Baldwin, Bob Dylan, I look up to people and think that I would like to live up to their legacy. I would like to carry that forward…Malcolm X. I live it as much as I choose to. Me doing this right now, it's on my heart to do it. I couldn't have made a different album. This is the album I had to make. So I can't worry about anything else.