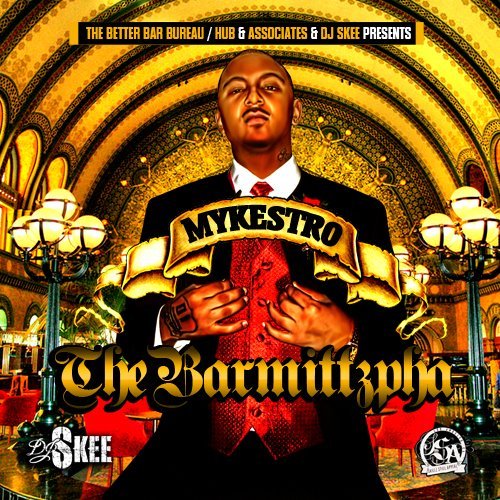 There is always a wait for new music from Mykestro, but as guaranteed as the delay between releases is, the quality can be equally assured! Since his 2010 single Set Precedent featuring Kendrick Lamar over production byBattlecat we dropped the records Oooh Wii, Hammertyme and finallyStrotis over the "Otis" single that pretty much everyone in the industry delivered a verse over.
Earlier this year we returned with the Dah Dah directed video for Boom Bap Rap that was produced by Nottz from his long awaited LP "The Barmittzpha"which as we reported was finally being readied for release.
Today is the day that "The Barmittzpha" is released! The star-studded album features guest appearances from Kendrick Lamar, Xzibit, Daz Dillinger, Soopafly, Columbo Black over production from DJ Battlecat, Nottz, Dae One, Khrysis, THX, Macado and more. The album is now available via iTunes for you to cop – and we urge you do it oozes quality from start to finish!
We have a single from The Barmittzpha that features Xzibit entitled "One One One" – download/stream the record below.
Mykestro – One One One (Feat. Xzibit) (Audio)
Not only that but Mykestro has decided that because of the wait for The Barmittzpha – and the volume of material he's recorded – that as well as the iTunes release of The Barmittzpha he is giving all fans a FREE Disc 2 of the album which we have for you below!
The 17 track project, which features Bad Lucc, Nottz, The Horse Shoe Gang, Gizzle, Columbo Black, Ab-Soul and more is available via Dubcnn for both download and via our streaming audio players for those at work or on the go and we urge you to download from dubcnn to truly support the westcoast and experience Free, no waiting, no passcodes download or streams via the HUB of Westcoast Hip-Hop, Dubcnn.com.
Mykestro – The Barmittzpha Disc 2 (Free Download)
Mykestro – The Barmittzpha Disc 2 (Streaming Audio)
Stay tuned right here for the latest news and media from Mykestro and download The Barmittzpha Disc 2 before heading to iTunes to cop Disc 1 of The Barmittzpha – huge S/O to Myk from the Dubcnn Team!