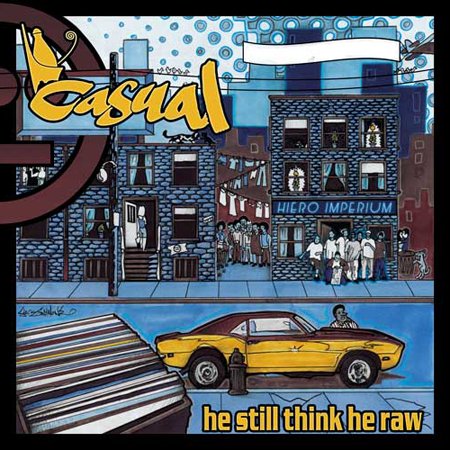 Since he popped back up on Dubcnn in the article Casual Drops "Mic Memorial" Video From "The Hierophant" LP in June last year Casual akaSmash Rockwell of the legendary Hieroglyphics has been a regular with updates dropping visuals for Mic Memorial, Divine Dreams and Fiend For Hip-Hop.
His project "The Hierophant" was initially available to listen and purchase via his BandCamp page for just $7.99 and later in the year the album – which is produced entirely by Dj Toure' with features from Tajai of Souls of Mischief, Pep Love, Thomas Pridgen of Mars Volta and MoonShyne – was packaged and re-released for retail late last year.
Earlier this year we announced that Casual aka Smash Rockwell was getting ready to release a new album on May 22nd titled "He Still Think He Raw" – a nod to his 2001 LP "He Think He Raw."The LP will be produced entirely by DJ Fresh & The Whole Shabang, and we brought you the first track to drop from the album entitled Tears – produced by Scandle, a member of The Whole Shabang crew – as well as the Tears Music Vide, directed by Aris Jerome.
Today we return with the album cover – shown in the update – and another record from the release entitled "Sushi" featuring Mr Town. "This song was inspired by the production, DJ Fresh's beat did it all" says Casual – check it below!
Casual – Sushi (Feat. Mr. Town) (Audio)
Enjoy the record and then head over to Casual's He Think He Still Raw page to pre-order the album in Digital, Physical or Deluxe (including Autographed Poster, T-Shirt & Sticker Pack) from just $9.95. Also ensure you follow Casual on Twitter.