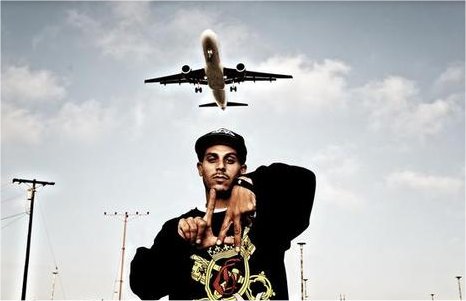 Evidence – who dropped his The Liner Notes video featuring Aloe Blacc on Dubcnn earlier this week – spoke to AllHipHop during last weekend's Soundset Festival in Minneapolis.
He dropped "Cats & Dogs" – the follow up to his critically acclaimed"Weatherman LP" – back in September via iTunes that included the tracks videos for To Be Continued…, It Wasn't Me, Falling Down and then the video for the DJ Premier single You.
In November we caught up with the man himself for this exclusive interview where we discussed the album, his new label home Rhymesayers and how the emcee/producer approaches the recording process.
In the AllHipHop interview Ev stated that he, DJ Babu and Rakaa Iriscience were heading back to the lab to finalise their fifth album "Directors of Photography" – "Directors of Photography is the next Dilated Peoples album and I'm excited about it, nervous about it, everything in between. We never broke up or anything like that, we've been supporting each other on our solo missions. Most people who know the details about Dilated know that we're solo artists who came together to make something bigger and this is just a return to genesis so to speak.
He went on to explain how he feels the new record could sound as a result of the hiatus; "Sometimes we've got to be conscious of each other when we're in a group because not all of our views reflect each others visions all the time. So it's been fun to just do what we wanted to do in these off years, solo, expressing ourselves. I think our next Dilated record could really be a great sound because of this freedom we've had. I'm looking forward to it."
On working with DJ Premier for his single You from "Cats & Dogs" Ev stated, "Throughout history, his catalogue, everything is just amazing. To work with him is one thing. It's the sh*t and a highlight. To kick it with him and chill with him or talk on the phone is another notch up. To get in front of a crowd and have DJ Premier literally scratching for me and on the mic hyping me up; I was smiling so much I almost missed words. It was like that genuine, young youth excitement. Not from weed, not from alcohol, just like that first time getting p*ssy feeling.
Evidence also discussed a project long-awaited by fans his collaborative LP with Alchemist titled"Step Brothers" – "That's a project that we've been talking about for a long time, so that's almost done but after Cats & Dogs I don't want to promise dates anymore 'cause it puts you in a weird predicament as an artist. Step Brothers might even happen before Dilated, because it's not one of those 'stop the world' type of albums. I don't want to say it's a novelty record or side project, because it has the potential to be much more but it's something that can live amongst the other campaigns."
Remember Evidence is currently on a European Tour – check the dates here. – and then ensure you follow Ev on Twitter.