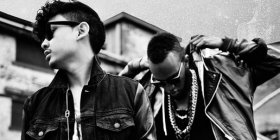 Promising Toronto duo The Airplane Boys released their new music video for "Still Young" off their latest mixtape, "Alignment". Directed and styled by Warren Credo and Justin Create of Beau Monde, "Still Young" embodies nostalgic visuals as Beck Motley and Bon Voyage take you back to the days of Super Soakers, Jordan's, 25-cent Street Fighter, beach BBQ's and NBA Jam.
Catch APB performing "Still Young" along with other singles from Alignment on June 29th at the Harbourfront Centre in Toronto for FREE!
Airplane Boys – Still Young (Video)
You can also pick up the "Alignment" EP, available on iTunes and all digital retailers now.