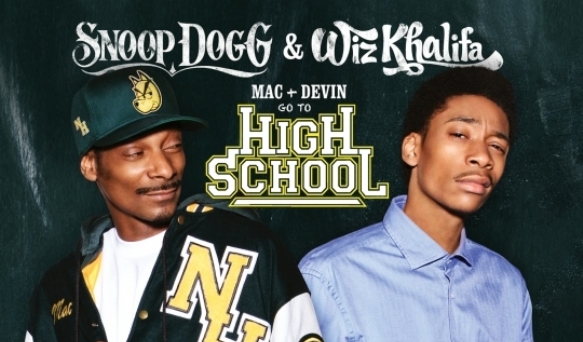 Today sees the release of the Snoop Dogg & Wiz Khalifa movie Mac & Devin Go To High School on DVD & Blu Ray. To mark the release we have a movie review available for those that have yet to see it.
A comedy that follows two high school students — one overachiever struggling to write his valedictorian speech (Wiz Khalifa), the other a senior now going on his 15th year of school (Snoop Dogg).

Purchase: DVD, Blu Ray or the Soundtrack CD/MP3
  
Rating: 3/5
…………………………………………………………………………………
Starring: Snoop Dogg & Wiz Khalifa
Director: Dylan C. Brown
DVD Release Date: July 3rd 2012
Runtime: 76 Minutes
Rating: 3/5
Purchase: DVD, Blu Ray or the Soundtrack CD/MP3
…………………………………………………………………………………
Disclaimer: Reviewing this movie is quite difficult to do. I think we can all agree it would be a waste of time to compare this to Shawshank Redemption or something of that ilk. This is a stoner movie therefore the review & rating reflects how it fares in that genre. If you want to enjoy this for what it is, get high and watch it. If you are expecting a cinematic classic, get high and watch it, only this time try smoking crack.

Mac and Devin are two polar opposites attending the same high school whose paths cross when they are assigned together for their science project. Thats when hilarity ensues, right? Not exactly. If you cut out the intro, the animated joint, music videos and outtakes, it leaves about 50 minutes worth of fillm (if even that). Leaving little time for any real story to play out, Mac & Devin Go To High School tries to win going another route; quick laughs and eye candy.
Every character is outlandish, almost comic strip-esque. Mike Epps plays the role of a teacher, Andy Milonakis is a wheelchair bound student and the stunning and Teairra Mari is cast as the substitute teacher, sexy attire and all. Wasn't your school just like that?
While i've hightlighted some of the negative, I can't forget the positives. On screen Snoop is as charasmatic and natural as ever and as to be expected has a natural chemistry with Wiz Khalifa which makes their scenes easy to watch. Teairra Mari looks amazing, the music throughout is great. Lots of cameos many of you guys will recognise (albeit adding nothing to the film), plus there are funny moments scattered throughout namely Mac & Devins interactions and also the out take footage at the end. Wait, did I mention Teairra Mari? Good, she deserves to be mentioned. Many times. You'll understand why when you watch it.
Overall there will be moments of laughter, if you are a true weed head there may be many of those moments. As a movie, it falls short when compared to the likes of Half Baked and with such a short run time I find it hard to call this a movie. The cast are having fun and it shows. If you can switch your brain off you may end up enjoying it. Im giving this 3/5 and Snoop, you can thank Teairra for that!

…………………………………………………………………………………
Review by Mil
The views expressed here are those of the authors and not necessarily those of Dubcnn as an organisation.
…………………………………………………………………………………